Categories
By Ingredient
Special Occasions
More Links
Zereshk Polo, Persian Barberry Rice
Posted on 2011-11-27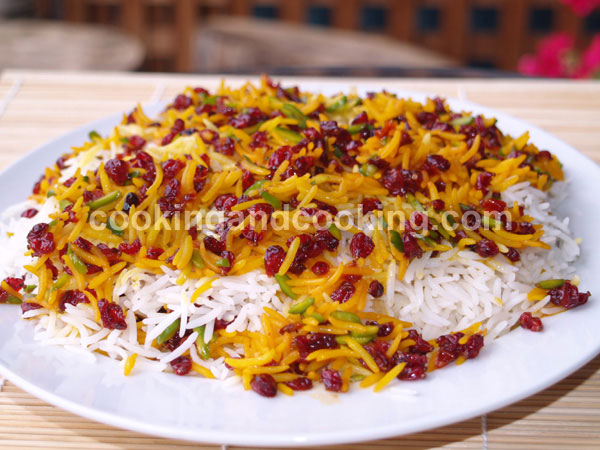 Zereshk Polo or Persian Barberry Rice is one of the popular and delicious Iranian rice dishes. Serve it with Cooked Chicken.

Print
---
Yield: Serves 4
INGREDIENTS
2 cups uncooked basmati rice (I used this brand: Saleem Caravan, Super Golden Basmati Rice)
1 cup dried barberries (also known as Zereshk, you can find at any Iranian store)
4 tablespoons sugar (you can add more, depends on your taste)
1/4 cup butter
1/2 teaspoon ground saffron
pinch of ground cinnamon
salt
3 tablespoons slivered pistachios
INSTRUCTIONS
Dissolve ground saffron in 1/2 cup of boiling water and set aside (click for How to Use Saffron).
Pick over the dried barberries (zereshk) and remove any stones. Then wash and drain. In a small pot, melt the butter over medium-low heat. Add the barberries and saute for 1 minute. Add the sugar, cinnamon, and salt, and saute for 1 minute. Add the dissolved saffron and cook for 3-5 minutes. Set the barberry mixture aside.
Meanwhile, prepare the plain rice (click for Persian Rice recipe). When rice is ready, in a large bowl mix 1 1/2 cups of cooked rice with the barberry mixture. Add the slivered pistachios and stir.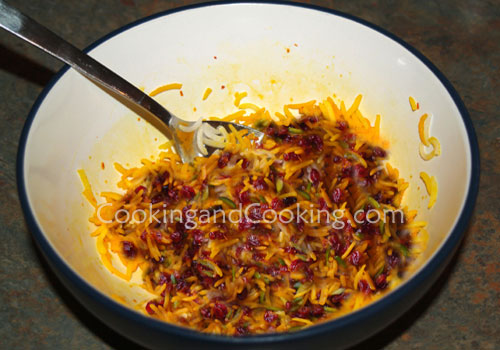 To serve, place a layer of plain rice on a serving dish then a layer of barberry-rice mixture. Repeat the layers and serve with Cooked Chicken.
Note: Please do not use our photos without prior written permission. Thanks!

Print
You might also like these...
Stay In Touch