Categories
By Ingredient
Special Occasions
More Links
Stuffed Shells with Ground Beef Recipe
Posted on 2015-07-29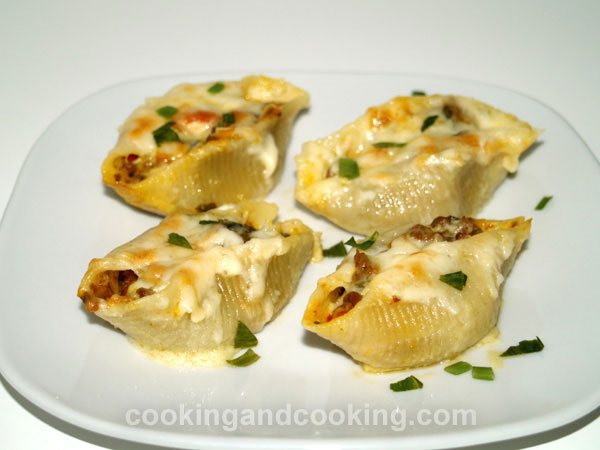 A simple pasta dish made with jumbo pasta shells, ground beef, bell pepper, cilantro, Parmesan, Mozzarella, and White Sauce or Bechemal Sauce. If you are getting tired of making the same old spaghetti, it may be time to try something different like this ground beef stuffed shells recipe. Serve this pasta recipe with salad or Garlic Bread.

Print
---
Yield: Serves 4-5
INGREDIENTS
30 jumbo pasta shells
350-370 g extra lean ground beef
2 medium bell peppers, diced
2 cups finely chopped fresh cilantro
2 cups shredded mozzarella cheese
1 tablespoon Parmesan cheese
1/2 teaspoon dried oregano leaves
1 medium onion, finely chopped
3 garlic cloves, finely chopped
3/4 cup crushed tomatoes
vegetable oil
1 teaspoon turmeric powder
salt & pepper to taste
INSTRUCTIONS
Heat 2 tablespoons oil in a pot over medium heat. Add the onion and saute until golden. Add the garlic and saute for a minute. Increase heat to medium-high; add the ground beef and brown until no longer pink, stirring occasionally. Reduce heat to medium, add the diced bell pepper, crushed tomato, turmeric, oregano, salt and pepper. Stir well and saute for 1-2 minutes. Add 1/4 cup water, cover the pot and cook over medium heat for 20 minutes. Remove from heat, add Parmesan cheese and cilantro. Taste, adjust seasonings and set aside.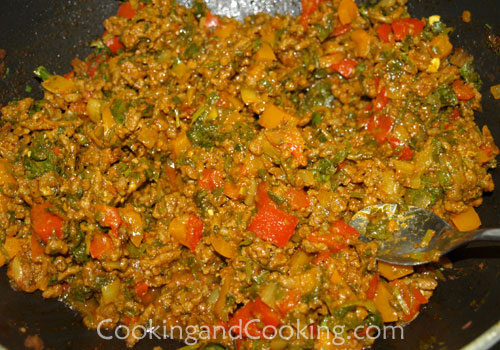 Make the White Sauce or Bechemal Sauce and set aside.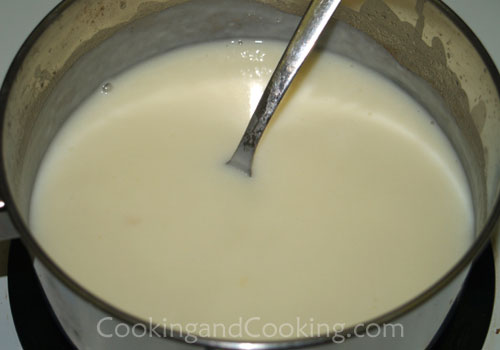 Cook the shells according to package instructions in salted water until al dente (don't overcook shells or they'll tear apart). Drain and set aside to cool.
Fill each shell with beef mixture.
Preheat oven to 360 degrees F. Spray two 11x8-inch baking dishes with cooking spray. Spread a little of white sauce over bottom of the baking dishes.
Arrange them in a single layer in the baking dishes.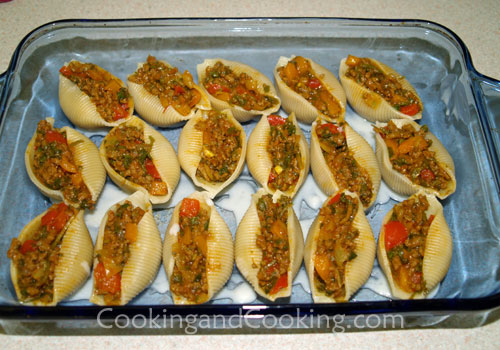 Spoon remaining white sauce over the shells.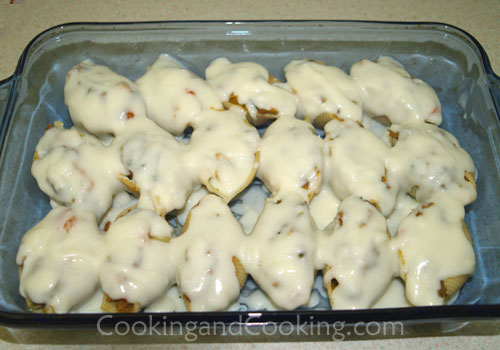 Cover the baking dish with foil and bake for 35 minutes.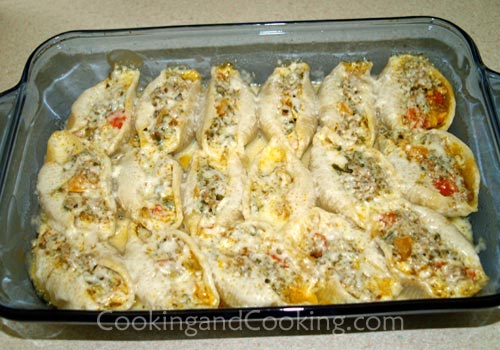 Remove from the oven and sprinkle mozzarella cheese over the shells. Bake uncovered for about 10-15 minutes or until cheese is melted and lightly golden.
Garnish with cilantro and serve immediately.
Note: Please do not use our photos without prior written permission.
Thank you!

Print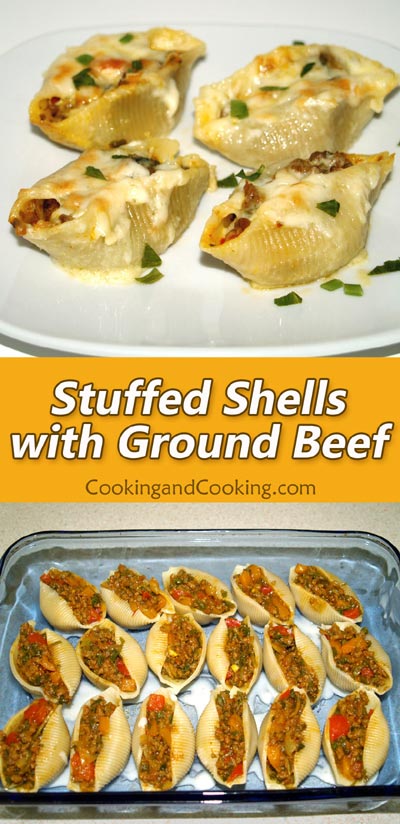 You might also like these recipes...
Stay In Touch
Join my Telegram Channel