Categories
By Ingredient
Special Occasions
More Links
Stuffed Portobello Mushrooms
Posted on 2013-05-21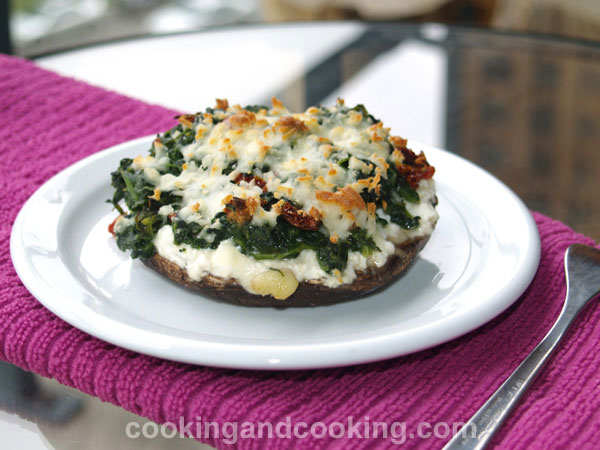 Stuffed Portobello Mushrooms recipe is an easy appetizer recipe or even side dish recipe that your guests will love, and ask for more! Perfect combination of ricotta cheese, spinach, fresh cilantro, garlic, sundried tomato and mozzarella cheese, as the stuffing, makes these Portobello Mushrooms so tasty and so delicious.

Print
---
Yield: Makes 4 Stuffed Portobello Mushrooms
INGREDIENTS
4 Portobello mushroom caps, stems removed
1 cup ricotta cheese
1/2 cup shredded mozzarella cheese
7 cups chopped spinach, about 350 g
1/3 cup chopped fresh cilantro
2 garlic cloves, minced
4 tablespoons chopped sundried tomato
olive oil
cooking oil
salt and pepper to taste
INSTRUCTIONS
Heat 2 tablespoons of oil in a frying pan over medium heat. Add the spinach and cook uncovered until the spinach is completely wilted, stirring occasionally. Squeeze out all of the excess liquid from the spinach in a colander with the back of a spoon. Add the cilantro, garlic, sundried tomato, salt and pepper. Mix well and set aside.
Preheat the oven to 400 degrees F. Rub the olive oil all over the outer part of each portobello mushrooms and place them on a oven tray.
Spoon 1/4 cup ricotta cheese in each mushroom cap.
Spread a layer of spinach mixture.
Then top with shredded mozzarella cheese.
Bake until cheese is melted and mushrooms are tender, about 18-20 minutes. Serve the Stuffed Portobello Mushrooms immediately.
Note: Please do not use our photos without prior written permission. Thanks!

Print

You might also like these...
Stay In Touch