Categories
By Ingredient
Special Occasions
More Links
Stacked Beet Salad with Feta Cheese
Posted on 2016-06-15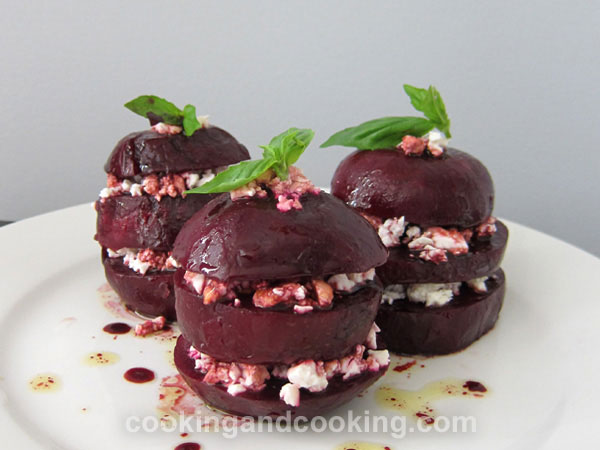 If you're looking for a unique and elegant salad idea or something that's just different from the other salads, then this layered beets is a must try! Stacked beet salad with feta cheese is a simple salad recipe that can be served as a delicious vegetarian appetizer or side dish for any meal.

Print
---
Yield: Serves 4
INGREDIENTS
4 medium beets
crumbled feta cheese
2 tablespoons balsamic vinegar
1 1/2 tablespoons olive oil
fresh basil
INSTRUCTIONS
Cut off the greens of the beets and wash them gently, trying not to break the skin. Place them in a pot and pour water until beets are covered. Cover the pot and bring to a boil. Simmer until beets are tender and easily pierced with a knife.
Allow to slightly cool then carefully remove skin. Slice the beets into rounds, about 1/2-inch thick.
In a small bowl, whisk together balsamic vinegar and olive oil. Dip the beet slices in balsamic-olive oil mixture.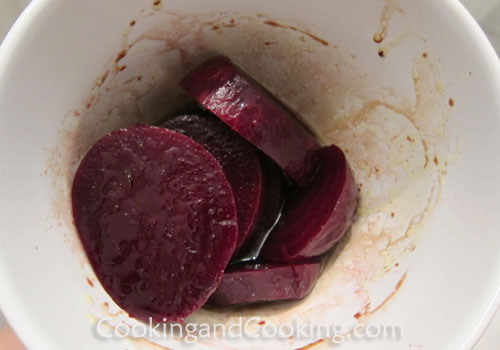 Assemble beets by placing as much as you like of feta cheese between each layer, and re-stacking to form a full beat. Drizzle stacks with remaining balsamic-olive oil mixture and garnish with basil. Stacked beets are ready to serve.
Note: Please do not use our photos without prior written permission. Thanks!

Print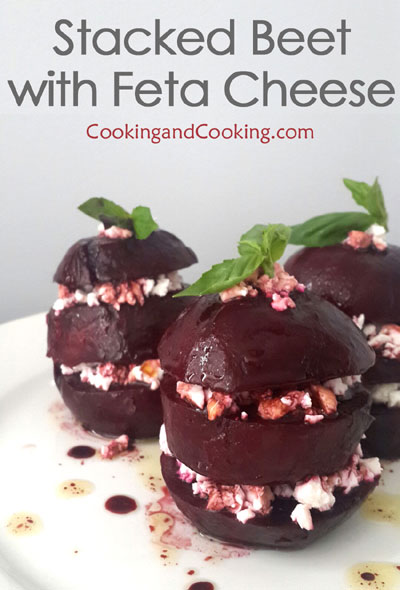 You might also like these...
Stay In Touch