Categories
By Ingredient
Special Occasions
More Links
Scallion Potato Soup
Posted on 2009-11-09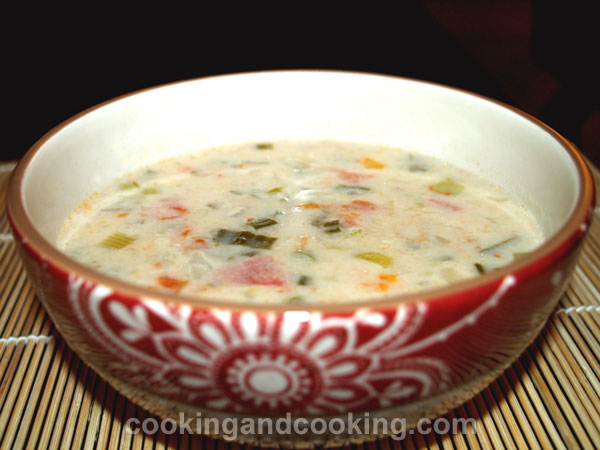 Are you looking for new soup recipe ideas? This Scallion Potato Soup might be what you're looking for. Try this tasty and simple soup and enjoy! If you are vegetarian, add butter instead of chicken.

Print
---
Yield: Serves 6
INGREDIENTS
2 bunches scallion, chopped (about 3 cups)
3 medium potatoes, peeled and shredded
1 medium onion, finely chopped
1 1/2 cups chopped tomatoes
100 g skinless chicken backs (or skinless wings)
6 cups water
1 cup heavy cream 35%
3 tablespoons dried oregano leaves
salt & pepper to taste
INSTRUCTIONS
Place the scallion, potato, water, chicken and onion in a large pot. Cover the pot and bring to a boil. Add the tomato, dried oregano leaves, salt and pepper to taste. Reduce heat to medium-low, and simmer covered until vegetables are tender, stirring occasionally.
Once vegetable are cooked and reached desired thickness, pour the cream, adjust seasoning and serve. Remove the chicken before serving.
Note: Please do not use our photos without prior written permission. Thanks!

Print
You might also like these...
Stay In Touch