Categories
By Ingredient
Special Occasions
More Links
Join my Telegram Channel
Refried Bean Casserole Recipe
Posted on 2010-02-21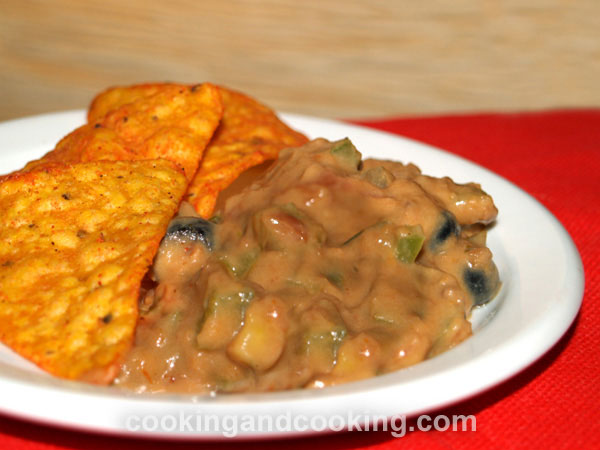 Bean Casserole is one of my favorite Mexican casserole dishes. This recipe is very easy to prepare and can be served as a meal or even as a side dish.

Print
---
Yield: Serves 4-5
INGREDIENTS
1 can (398 ml) refried beans
1 1/2 cups shredded mozzarella cheese
2 cups chopped green pepper
1/2 cup sliced black olives
1 cup mild salsa sauce (ready to serve) or Fresh Tomato Salsa Sauce
1/2 cup sour cream
2/3 cup chopped fresh basil
2 tablespoons vegetable oil
INSTRUCTIONS
Mix the sour cream and salsa sauce. Set the mixed sauce aside. Heat the oil in a skillet over medium heat. Add the green pepper and chopped basil; saute for 8-10 minutes, stirring occasionally. Add the olives, refried beans and mixed sauce. Cook uncovered for 3 minutes.
Preheat the oven to 370 degrees F. Coat the bottom and sides of a baking dish with oil. Pour the bean mixture into the baking dish. Sprinkle with mozzarella cheese.
Place on the middle rack of the oven and bake until cheese melts and top is lightly golden brown.
Serve with bread or tortilla chips.
Note: Please do not use our photos without prior written permission.
Thank you!

Print
You might also like these recipes...
Stay In Touch