Categories
By Ingredient
Special Occasions
More Links
Quinoa Shrimp Salad
Posted on 2011-10-31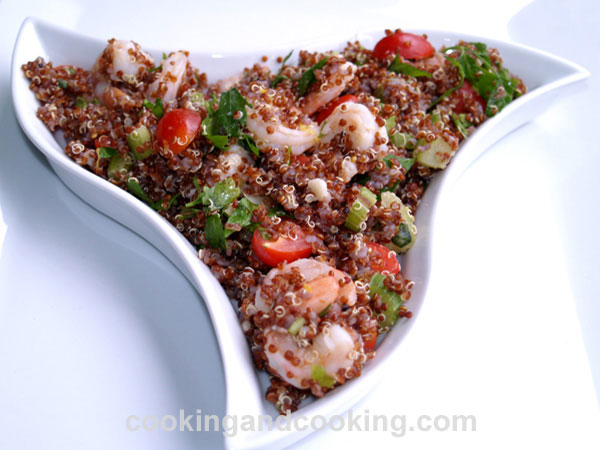 Try this healthy, delicious and light Quinoa Shrimp Salad. It can be served warm or cold.

Print
---
Yield: Serves 5
INGREDIENTS
1 cup red quinoa
2 cups water
1 cup (about 160 g) grape tomatoes, halved
1 garlic clove, minced
340 g shrimp, cooked, peeled and deveined
3/4 cup fresh parsley, chopped
2 celery stalks (about 1 1/4 cups), thinly sliced
3 tablespoons fresh basil, chopped
1/4 cup fresh lemon juice (you can add more, depends on your taste)
4 tablespoons extra-virgin olive oil
1 teaspoon lemon zest
salt & black pepper to taste
INSTRUCTIONS
In a small saucepan, bring water to a boil. Add quinoa and give it a quick stir. Cover the saucepan, reduce heat to low and simmer for 15-17 minutes, or until the quinoa is tender and the water has been absorbed. Remove from heat and let stand 5 minutes. Then fluff with a fork. Allow it to cool to room temperature.
Meanwhile, heat 2 tablespoons olive oil in a skillet over medium heat. Add garlic and saute for 1 minute or until fragrant. Add the celery. Reduce heat to medium-low and cook uncovered for 15 minutes, stirring occasionally.
In a small bowl, whisk together the lemon juice, 2 tablespoons olive oil, lemon zest, pepper and salt. Set the dressing aside.
In a large bowl, combine the celery mixture, shrimps, grape tomatoes, parsley and basil. Stir in quinoa. Pour the dressing over the quinoa mixture and toss. Taste and adjust seasonings. Serve warm or cold.
Note: Please do not use our photos without prior written permission. Thanks!

Print
You might also like these...
Stay In Touch