Categories
By Ingredient
Special Occasions
More Links
Olive Salad
Posted on 2016-01-27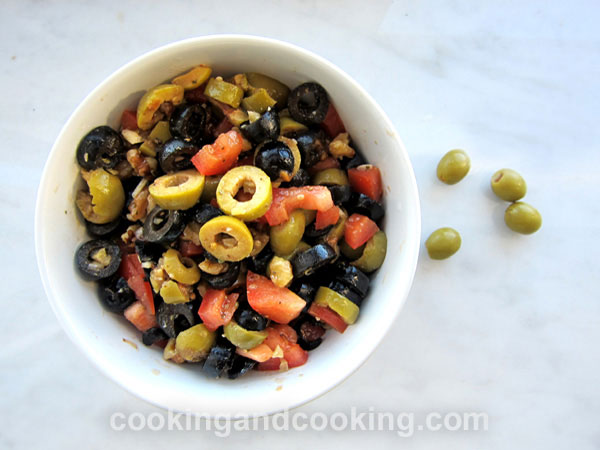 This simple olive salad with tomato and walnut is beautiful and refreshing and, if you love olives you will enjoy this salad. Olive salad is a favorite simple and easy salad of mine that can be served as a side dish as well.

Print
---
Yield: Serves 2-3
INGREDIENTS
1 cup sliced green olive
1 cup sliced black olive
2 tomatoes, diced
1 garlic clove, minced
1 tablespoon olive oil
1 tablespoon balsamic vinegar
1/2 teaspoon dried oregano leaves
1/2 cup coarsely chopped walnut
pepper
INSTRUCTIONS
If the olives are is too salty, soak them in the cold water for 30 minutes or until your desired level of saltiness and then drain.
Combine green olives, black olives, tomato, garlic, oregano, and walnut in a serving bowl. Add the olive oil, balsamic and pepper to the salad and toss to mix well. Chill for a couple of hours and serve.
Note: Please do not use our photos without prior written permission. Thanks!

Print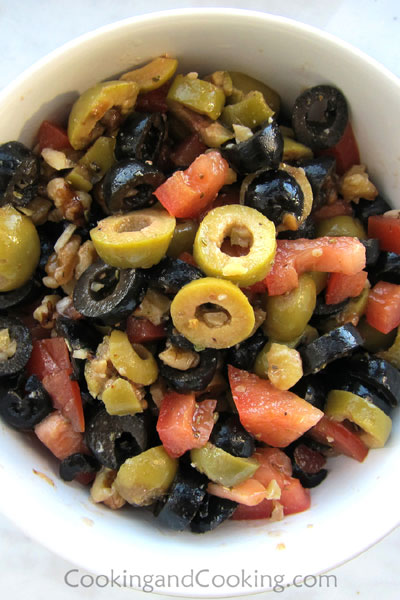 You might also like these...
Stay In Touch