Categories
By Ingredient
Special Occasions
More Links
Olive Cheese Bread
Posted on 2011-09-30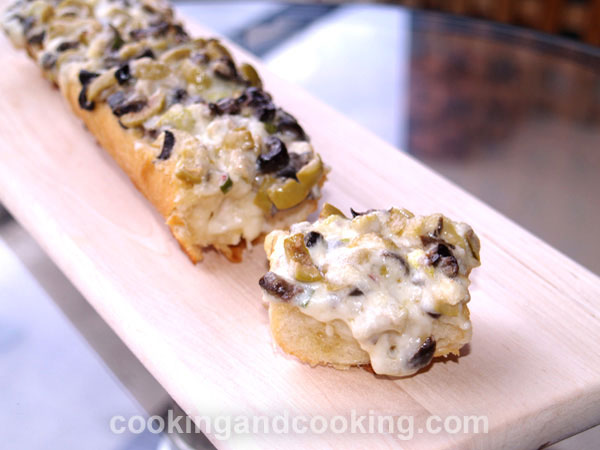 There is nothing better than easy and cheesy! This Olive Cheese Bread is a tasty, easy and quick appetizer to prepare for a crowd, and everyone loves it. To make this cheesy bread, cut the baguette in half. Mix butter, mayonnaise, cheese, olives and green onions together. Spread it all over the bread ad bake until cheese is melted.

Print
---
Yield: Serves 8
INGREDIENTS
1 French bread baguette (or loaf of French bread)
2 stalks green onions (about 1/2 cup), sliced into thin pieces
1/3 cup butter, softened, room temperature
1/2 cup mayonnaise
1 1/3 cups green olives, roughly chopped
1 1/3 cups black olives, roughly chopped
2 1/2 cups (about 260 g) Monterey jack cheese, grated
INSTRUCTIONS
Tip: If olives are too salty, soak them in the cold water for 15-20 minutes and then drain.
Place butter into a mixing bowl. Add mayonnaise and mix well. Add cheese, olives and green onions. Stir together until thoroughly combined.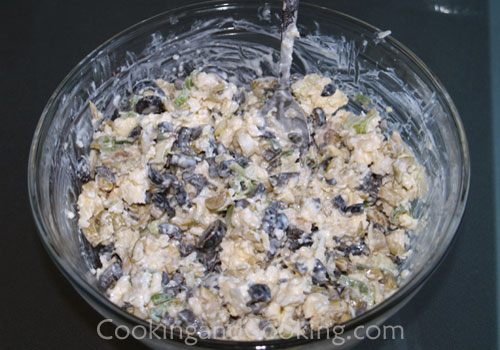 Slice the bread in half lengthwise (you can then cut each piece in half crosswise, they fit on a baking sheet that way).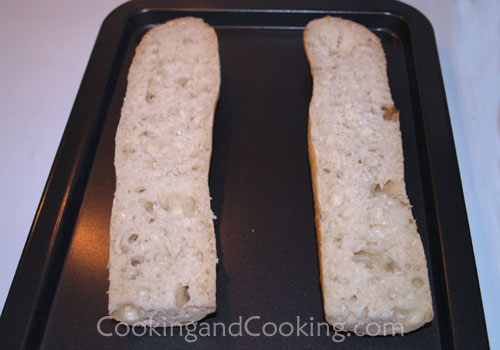 Preheat oven to 325 degrees F. Spread each piece of bread generously with the olive mixture (spread it all the way to the edges too).
Note: bread can be refrigerated or frozen at this point until you're ready to serve it.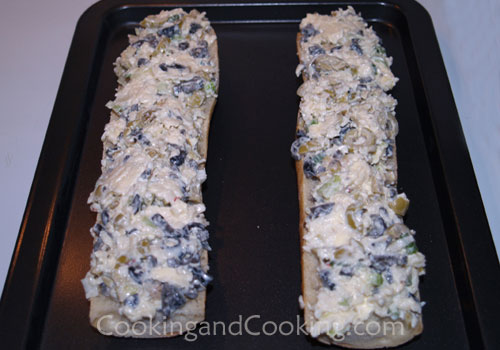 Bake for 25 to 30 minutes or until cheese is melted and browned. Cut into slices and serve.
Note: Please do not use our photos without prior written permission. Thanks!

Print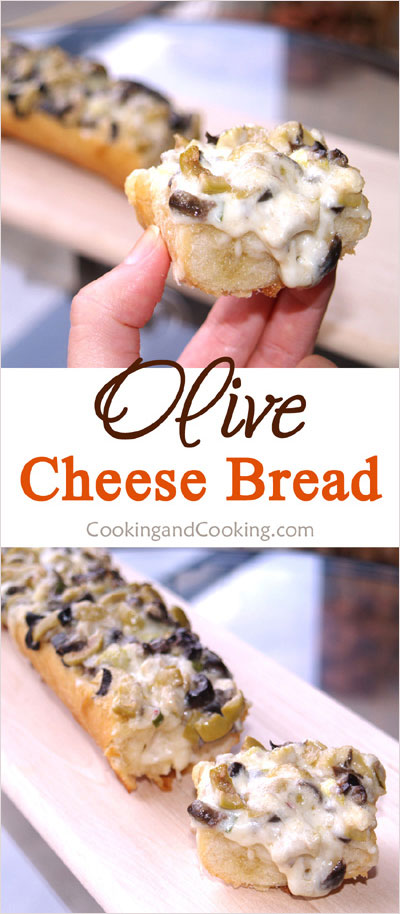 You might also like these...
Stay In Touch