Categories
By Ingredient
Special Occasions
More Links
Ground Beef and Potato Casserole
Posted on 2010-01-05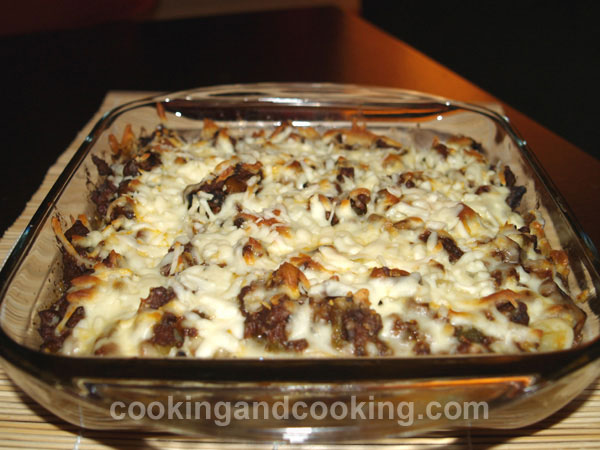 This Gratin Recipe is a perfect dish and easy to prepare. You can make it with ingredients you probably already have.

Print
---
Yield: Serves 4
INGREDIENTS
250 g extra lean ground beef
2 large potatoes
2/3 cup fresh asparagus, trimmed and cut into 1 inch pieces
9 large mushrooms, washed and chopped
1 large green pepper, washed and chopped
2 cups shredded mozzarella cheese
5 tablespoons crushed tomatoes
1 medium onion, finely chopped
1 package (35 g) taco seasoning mix
4 tablespoons vegetable oil
1 cup water
INSTRUCTIONS
Dissolve taco seasoning mix in 1 cup water, put the taco sauce aside.
Wash potatoes, put them into a pot and add salt. Pour water until potatoes are covered and bring to boil, reduce heat, cover the pot and simmer until done - a fork can easily be poked through them. Drain water from potatoes, peel and slice them.
Meanwhile heat vegetable oil in a pan over medium heat, add chopped onions and saute until tender. Add ground beef and saute until no longer pink, stir occasionally. Add crushed tomatoes and taco sauce. Reduce heat to medium-low, cover the pan and cook for 10 minutes. Then add asparagus, green pepper and mushrooms. Cook until vegetables are tender and almost all liquid is absorbed, stirring occasionally.
Preheat the oven to 350 degrees F. Pour 1 tablespoon vegetable oil into a baking dish and coat the bottom and sides of that. Place one layer sliced potato, one layer of ground beef mixture over the potatoes and sprinkle cheese on top of that, then repeat the layers again. Place on the middle rack of the oven and bake until cheese is melted.
Note: Please do not use our photos without prior written permission. Thanks!

Print
You might also like these...
Stay In Touch