Categories
By Ingredient
Special Occasions
More Links
Grilled Chicken Red Pepper Skewers
Posted on 2012-05-16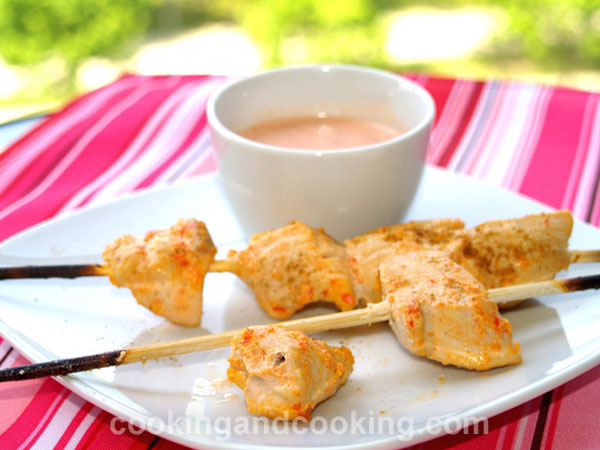 These juicy Grilled Chicken Skewers are simple to make and so delicious. You need to marinate the chicken with the bell pepper sauce for 3 hours to get the maximum flavor.

Print
---
Yield: Serves 2
INGREDIENTS
450 g boneless skinless chicken breasts, cut into 1 1/2-inch pieces
1 medium red bell pepper, halved, seeded and quartered
1/3 cup mayonnaise
2 garlic cloves, finely chopped
3/4 cup light sour cream
paprika powder, optional
salt & black pepper to taste
INSTRUCTIONS
Thread chicken onto the skewers (I used 6 wooden skewers). If you are using wooden skewers, soak in water at least 15 minutes prior to use.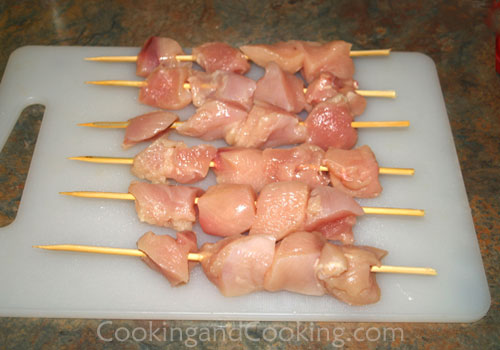 Blend the bell pepper, garlic, mayonnaise and sour cream in a blender until smooth. Add salt and pepper; mix well. Taste and adjust seasonings. Reserve 1/3 cup of the bell pepper mixture for serving with the chicken.
Place the chicken skewers in a shallow dish. Pour remaining bell pepper mixture over them. Cover and marinate in refrigerator for 3 hours.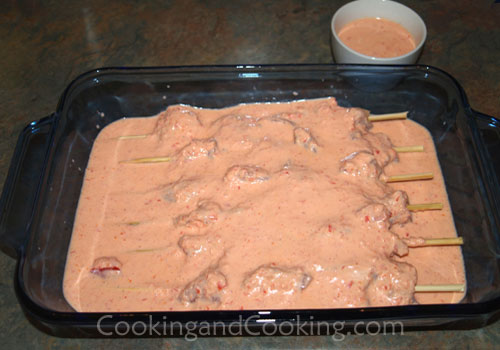 Remove chicken skewers from marinade. Place them on the middle rack of the oven, so that the chicken pieces are 6 inches from the element. Broil on low heat for 15 minutes or until chicken is cooked through, turning skewers occasionally. Sprinkle with paprika powder. Serve the grilled chicken skewers with reserved bell pepper mixture.
Note: Please do not use our photos without prior written permission. Thanks!

Print
You might also like these...
Stay In Touch