Categories
By Ingredient
Special Occasions
More Links
Fall Fruit Salad
Posted on 2017-10-28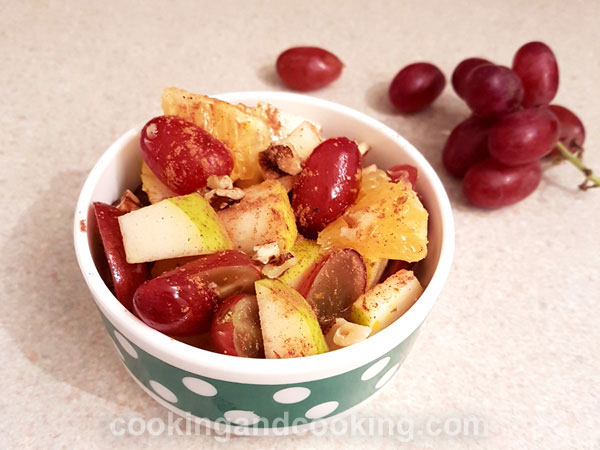 Here is a simple and versatile dairy free fruit salad made with pear, grape, and orange, and combined with walnuts, cinnamon, nutmeg, lemon juice and honey. I always use a little of fresh lemon juice in dressing because tossing fruit in lemon juice keeps it from browning once it's cut and stirred into a fruit salad.

Print
---
Yield: Serves 3-4
INGREDIENTS
2 pears
1 large orange, peeled and cut each slice into bite size pieces
1/2 teaspoon orange zest
2 cups halved red seedless grapes
2 tablespoons fresh lemon juice
1-2 tablespoons honey or maple syrup
1/4 teaspoon ground cinnamon
pinch of nutmeg
1/3 cup coarsely chopped walnuts
INSTRUCTIONS
Dice the pears and add to a mixing bowl. Add in the lemon juice (lemon juice keeps the diced pears from browning).
Add the orange, grapes, walnuts and orange zest. Then add the honey, cinnamon, and nutmeg. Gently toss fruit to coat in dressing. Serve and enjoy!
Note: Please do not use our photos without prior written permission. Thanks!

Print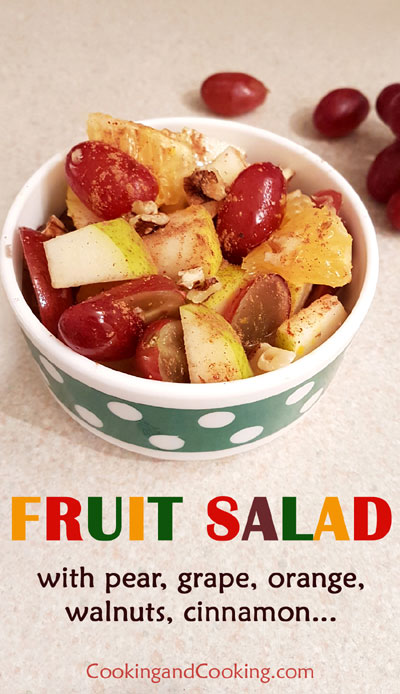 You might also like these...
Stay In Touch