Categories
By Ingredient
Special Occasions
More Links
Eggplant and Cheese Melt
Posted on 2012-11-12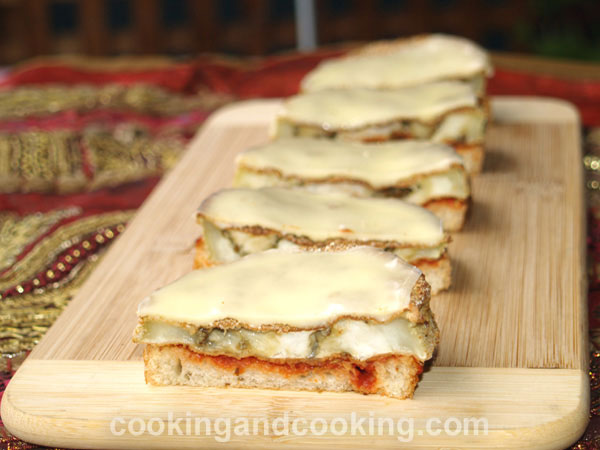 I'm always looking forward to trying new recipes with eggplant. I made Eggplant & Cheese Melt and it turned out great. This eggplant recipe is a perfect veggie recipe for those moms out there who want their kids to eat more vegetables. Eggplant and cheese melt recipe can be served as an eggplant sandwich or even as an eggplant appetizer.

Print
---
Yield: Serves 5-6
INGREDIENTS
1 medium eggplant (about 400 g), peeled and sliced into 1/2-inch-thick rounds
5-6 large and thick slices of Italian bread
8 slices of mozzarella cheese
2 eggs
1/2 cup plain dried breadcrumbs
canola oil
salt & black pepper to taste

For sauce:

2 medium tomatoes, grated on the large holes of a box grater
3/4 cup crushed tomatoes
1/2 teaspoon chilli powder
1/4 teaspoon garlic powder
1/2 tablespoon dried oregano leaves
INSTRUCTIONS
Prepare the tomato sauce: Heat 1-tablespoon canola oil in a saucepan on medium heat. Add the grated tomatoes, crushed tomatoes, oregano, chilli powder, garlic powder and salt. Simmer over medium-low heat until thickened, about 10-15 minutes. Set the tomato sauce aside.
Preheat oven to 410 degrees F and lightly oil a baking sheet. In a shallow bowl, lightly beat eggs with salt and pepper. Spread breadcrumbs in a plate. Dip the sliced eggplant in egg, then dredge in breadcrumbs, turning to coat completely.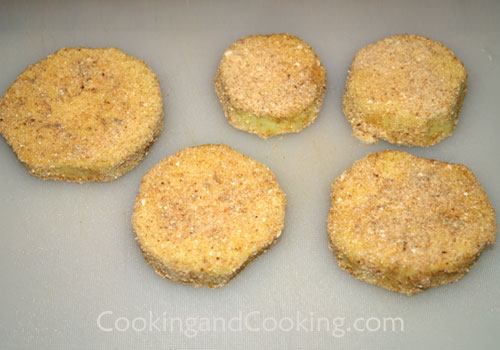 Transfer the breaded eggplants to the prepared baking sheet. Bake without turning until golden and tender, about 20-30 minutes.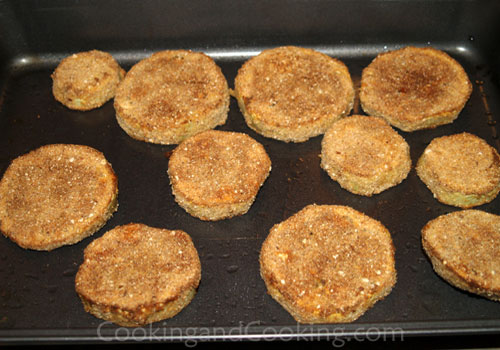 Place the slices of bread on another baking sheet. Layer breads with tomato sauce and eggplant.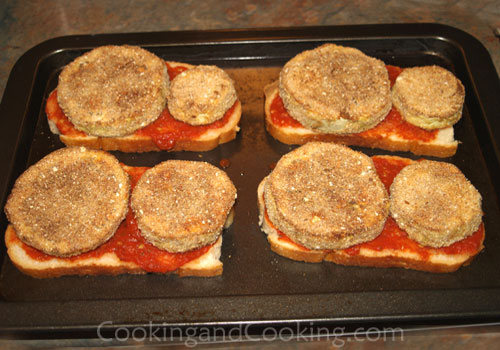 Top with slices of mozzarella cheese.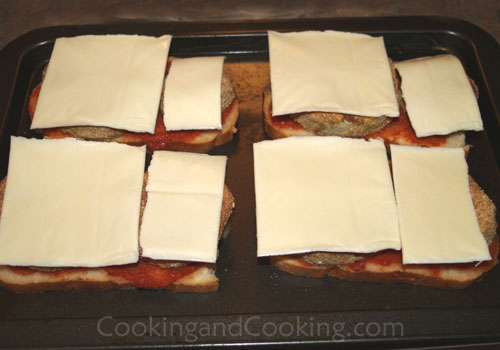 Preheat oven to 380 degrees F. Bake until cheese is melted, about 6-7 minutes.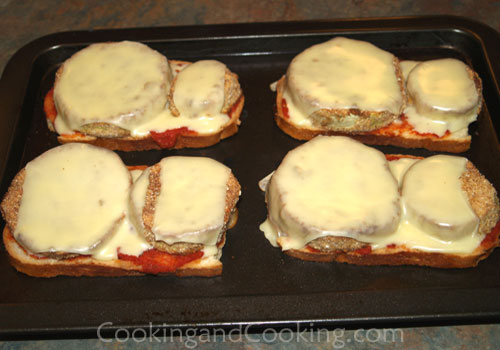 Cut into 1 1/2-inch pieces.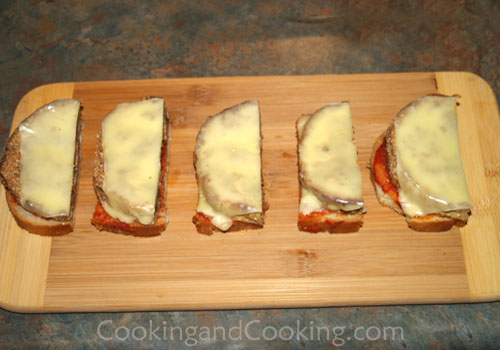 Serve the eggplant and mozzarella melt warm and enjoy!
Note: Please do not use our photos without prior written permission. Thanks!

Print

You might also like these...
Stay In Touch