Categories
By Ingredient
Special Occasions
More Links
Creamy Asparagus Fettuccine Recipe
Posted on 2009-12-14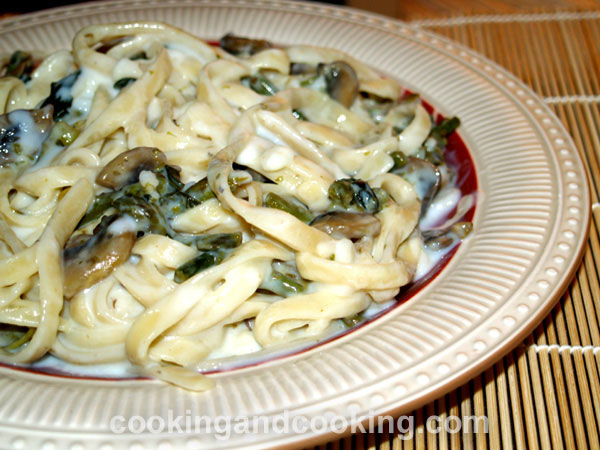 If you are looking for a delicious Italian pasta recipe, make this creamy fettuccine with asparagus, mushrooms, sliced olives, fresh basil, and white sauce.

Print
---
Yield: Serves 4
INGREDIENTS
3 cups fresh asparagus, trimmed and cut into 1 inch pieces
400 g mushrooms, washed and sliced
2/3 cup sliced olives (if olives are salty, soak them in cold water for 15-20 minutes and then drain)
3 tablespoons vegetable oil
2 tablespoons olive oil
1 cup chopped fresh basil
salt & pepper to taste
3 teaspoons dried oregano leaves or dried thyme
1/4 teaspoon turmeric powder
200 g fettuccine pasta
2 cups White Sauce or Bechemal Sauce (add more milk to make thin white sauce)
INSTRUCTIONS
Heat vegetable oil in a skillet over medium heat, add asparagus and fry for 10 minutes. Then add mushrooms, turmeric powder, dried oregano leaves, salt and pepper. Cover the skillet and cook until vegetables are tender. Add basil and sliced olives, uncover the skillet, stir and cook until almost all liquid is absorbed.
Meanwhile make the White Sauce or Bechemal Sauce. We need thin white sauce, add more milk and make enough sauce for an ample serving of pasta for four people.
Cook pasta in a large pot of boiling salted water until just tender but still firm to bite. When pasta is ready, drain and toss with the olive oil, then transfer to a serving dish. Gently toss pasta with mixture and white sauce then sprinkle with pepper. Serve immediately.
Note: Please do not use our photos without prior written permission.
Thank you!

Print
You might also like these recipes...
Stay In Touch
Join my Telegram Channel