Categories
By Ingredient
Special Occasions
More Links
Couscous Salad
Posted on 2011-05-28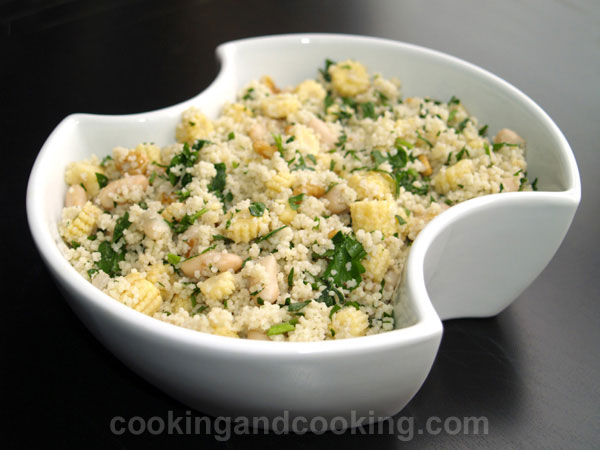 Couscous Salad is a wonderful and super easy salad recipe to make. It can be served as a vegetarian side dish or appetizer as well.

Print
---
Yield: Serves 5
INGREDIENTS
1 cup (about 170 g) couscous
1 1/4 cups water
2 cups (about 250 g) canned baby corn, sliced
1 cup (about 40 g) fresh parsley, finely chopped
1 cup (about 200 g) cooked white kidney bean, I used canned white kidney bean
lemon juice (depends on your taste, I added 9 tablespoons; about 1/3 cup)
1 teaspoon garlic powder
1/2 cup (about 60 g) walnuts, chopped
4 tablespoons extra-virgin olive oil
salt & black pepper to taste
INSTRUCTIONS
In a medium cooking pot, bring water to a boil. Add salt. Remove from heat. Add couscous and give it a quick stir with a fork. Cover the pot and let it sit for 10-15 minutes. Remove the lid and fluff with a fork.
When the couscous is ready, stir in olive oil and lemon juice. Add the chopped walnuts, sliced baby corn, white kidney beans, chopped parsley and garlic powder; mix well. Season with salt and black pepper. Serve at room temperature.
Note: Please do not use our photos without prior written permission. Thanks!

Print
You might also like these...
Stay In Touch