Categories
By Ingredient
Special Occasions
More Links
Cilantro and Baby Corn Salad
Posted on 2013-05-11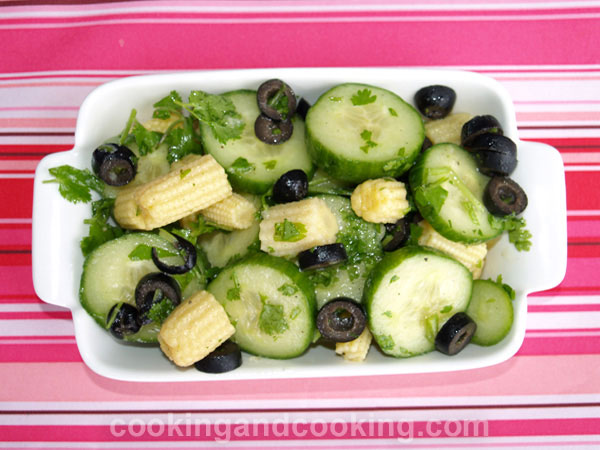 A light and healthy salad recipe, yet filling salad made with baby corn, coriander, black olive and cucumber in the lemon juice and olive oil dressing. Cilantro and Baby Corn Salad is a beautiful and refreshing salad.

Print
---
Yield: Serves 3
INGREDIENTS
1 canned baby corn (398 ml), drained and cut into 1-inch pieces
1/2 cup chopped fresh cilantro
2 cups thinly sliced cucumber
3/4 cup sliced black olive
2 tablespoons olive oil
fresh lemon juice, as much as you like
salt & pepper to taste
INSTRUCTIONS
In a serving bowl, combine the baby corn, cilantro, black olive and cucumber. Add the lemon juice, olive oil, salt and pepper to taste and toss. Taste and adjust seasonings. Serve at room temperature.
Note: Please do not use our photos without prior written permission. Thanks!

Print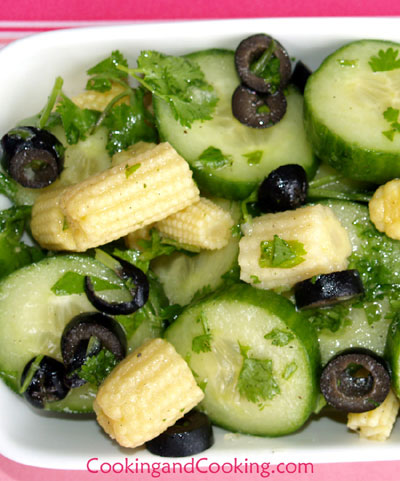 You might also like these...
Stay In Touch