Categories
By Ingredient
Special Occasions
More Links
Chocolate Truffles
Posted on 2011-01-29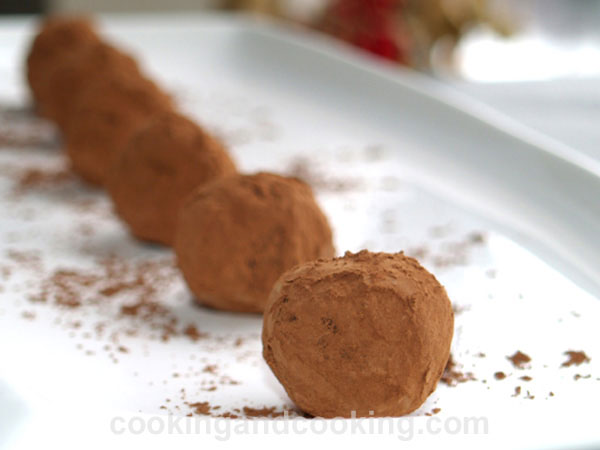 Chocolate Truffles is a great chocolate recipe for chocolate lovers. You can easily impress your guests at the end of the meal with these homemade chocolate truffles.

Print
---
Yield: Makes about 28 chocolate truffles
INGREDIENTS
200 g dark chocolate (70% cacao), finely chopped
1/2 cup whipping cream or heavy cream (35%)
1 teaspoon vanilla extract
1 teaspoon sugar
cocoa powder for coating
INSTRUCTIONS
In a small saucepan, bring the whipping cream to a simmer, stir occasionally.
Meanwhile, place the chopped chocolates and sugar in a separate bowl. Pour the hot whipping cream over them, add the vanilla extract and allow to stand for 30 seconds then stir until smooth.
Let cool slightly, then place in the refrigerator for two and half hours. Remove from the refrigerator. Scoop a tablespoon of chocolate mixture and roll the truffle balls quickly in your hands (be careful to avoid melting the balls). Place them on parchment or waxed paper.
Place again in the refrigerator overnight. Roll in cocoa powder and serve. Store the chocolate truffles covered in the refrigerator.
Note: Please do not use our photos without prior written permission. Thanks!

Print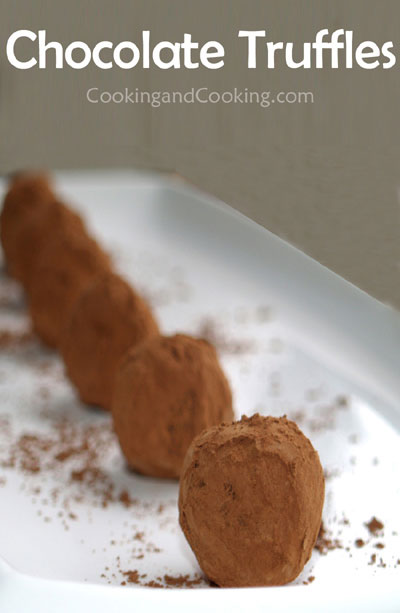 You might also like these...
Stay In Touch