Categories
By Ingredient
Special Occasions
More Links
Chicken and Eggplant Stew
Posted on 2015-11-16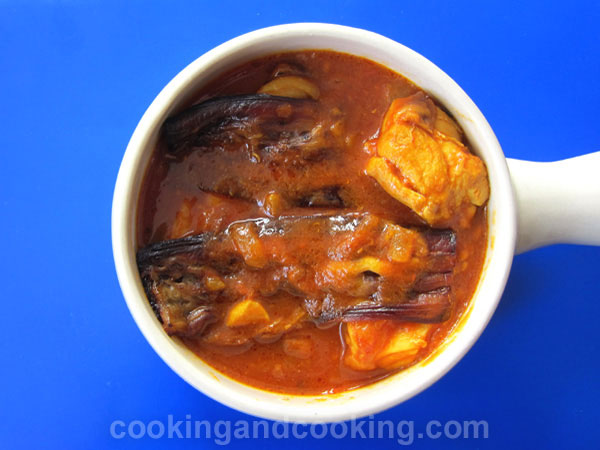 Chicken and Eggplant Stew is delicious and the whole family will appreciate. What is great about this eggplant stew is that the next day, it is even better! Serve this chicken eggplant stew with rice or bread.

Print
---
Yield: Serves 5
INGREDIENTS
2-3 large eggplants (about 1.2 kg)
750 g boneless and skinless chicken breast, cut into 2 inches pieces
1 medium onion, finely chopped
1 cup crushed tomatoes
2 medium tomatoes, sliced
vegetable oil
1 teaspoon turmeric powder
3 tablespoons lemon juice (or more, depends on your taste)
1/4 teaspoon ground angelica, also known as Golpar
1/8 teaspoon ground saffron
salt & pepper to taste
INSTRUCTIONS
Peel the eggplants and cut lengthwise, into 3/4-inch thick slices. To eliminate the bitter flavor from eggplants, sprinkle liberally with salt and let them sit for 20 minutes. Then rinse to remove the salt and pat dry.
Preheat oven to 400 degrees F. Cover the oven rack with aluminum foil and place the sliced eggplants on the rack in a single layer. Bake in the preheated oven until eggplants are soft, about 25-30 minutes. Remove from the oven and let cool slightly.
Heat the oil in a non-stick skillet over medium-low heat. Fry the eggplants until golden brown (don't use too much oil; whatever you use, eggplant will absorb). Place them on a paper towel to absorb the extra oil.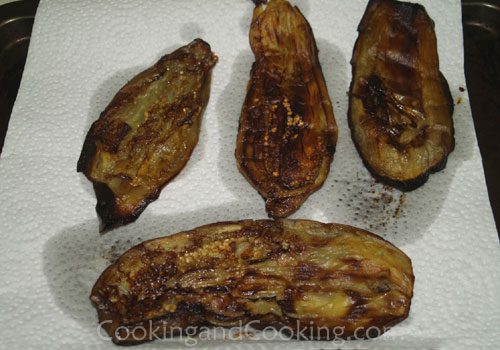 Meanwhile, heat 3 tablespoons oil in a pot over medium heat. Add the onion and fry until golden. Increase heat to medium-high. Add the chicken and cook until no longer pink. Reduce heat to medium. Add turmeric powder and pepper, and stir gently. Add the crushed tomato and cook for 1-2 minutes.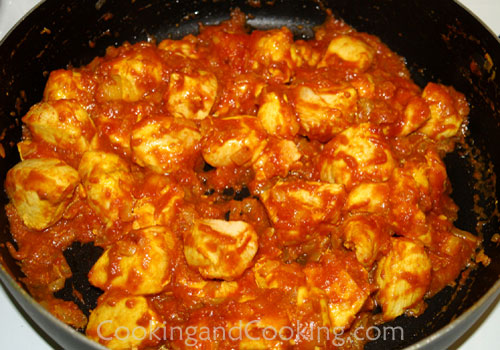 Add 1 cup warm water and place the tomato slices on top.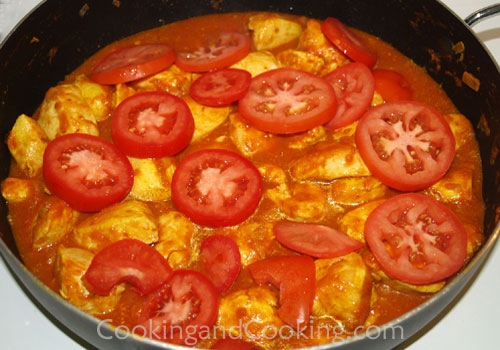 Cover the pot and cook over medium heat for 15 minutes. Add the angelica and salt to taste. Cook covered until chicken is cooked, about 30 minutes. Then add the ground saffron and lemon juice (as much as you like). Taste and adjust seasonings. Then place the eggplants on top and gently shake the pot (don't stir).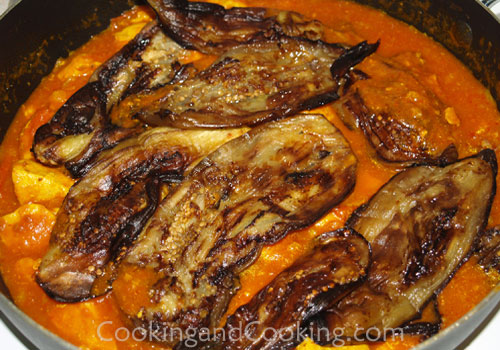 Cover the pot and cook to desired thickness, about 20 more minutes. Add more hot water during cooking if needed.
Note: Please do not use our photos without prior written permission. Thanks!

Print
You might also like these...
Stay In Touch