Categories
By Ingredient
Special Occasions
More Links
Chicken Taco Soup
Posted on 2013-01-29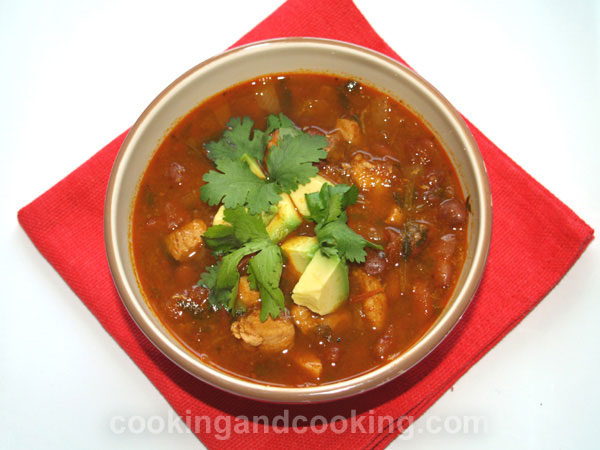 If you like spicy food, you'll love this chicken soup recipe. Chicken Taco Soup is a hearty combination of chicken, beans, fresh coriander, tomatoes, taco seasonings, with avocado and tortilla chips (optional) on top. Chicken taco soup is a perfect dinner idea for busy weeknights.

Print
---
Yield: Serves 4
INGREDIENTS
2 boneless & skinless chicken breasts (400 g), cut into small cubes
1 medium onion, finely chopped
3/4 cup dried red kidney beans (150 g), or 1 can red kidney beans, drained and rinsed
3 tomatoes, diced
3 cups low sodium chicken broth
3/4 cup chopped fresh coriander
30 g taco seasoning
1 tablespoon lemon juice
1/4 teaspoon chilli powder
1/4 teaspoon cumin
2 tablespoons cooking oil
1 ripe avocado, diced
tortilla chips (optional)
salt
INSTRUCTIONS
If you use dried red kidney beans, soak them in water over night (about 10-15 hours), changing the water couple of times. Then drain the beans. Place the red kidney beans with 6 cups water in a pot. Cover the pot and cook over medium heat until cooked, about 50-55 minutes. Drain and set aside.
Note: If you use canned beans, skip the part above. Just drain, rinse and set aside.
Heat the cooking oil in a pot over medium heat. Add the onion and fry for 2-3 minutes. Add chicken and cook until no longer pink, about 3 minutes.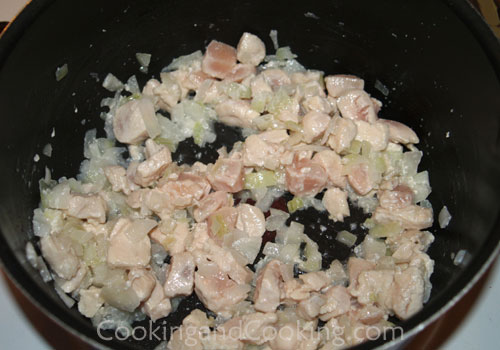 Add the taco seasoning and salt. Stir well.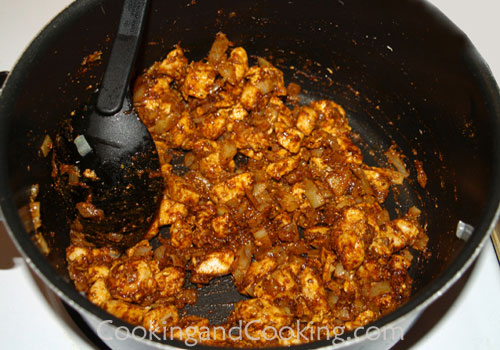 Add the tomato, chicken broth and 1/2 cup water. Bring to a boil. Cook covered over medium-low until chicken is cooked through (about 35-40 minutes), stirring occasionally. Then add the cooked beans, coriander, chili powder, cumin and lemon juice. Cook covered for 20-25 minutes. Taste and adjust seasonings. Garnish with fresh coriander, avocado and tortilla chips (optional) and serve.
Note: Please do not use our photos without prior written permission. Thanks!

Print
You might also like these...
Stay In Touch