Categories
By Ingredient
Special Occasions
More Links
Join my Telegram Channel
Chicken Fettuccine with Salsa Sauce Recipe
Posted on 2011-03-05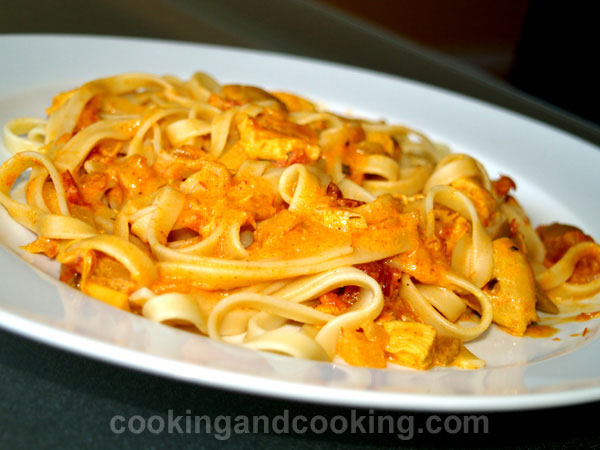 Here is a tasty recipe for Fettuccine, with Chicken and Salsa Sauce. Chicken fettuccine pasta recipe is one of the best ideas for dinner.

Print
---
Yield: Serves 5
INGREDIENTS
300 g fettuccine pasta
400 g boneless, skinless chicken breasts, cut into 3/4 inch cubes
1/2 cup (about 70 g) sliced olives (if olives are salty, soak them in cold water for 15-20 minutes and then drain)
4 tablespoons canola oil
1 tablespoon olive oil
3 cups mild salsa sauce (ready to serve) or Fresh Tomato Salsa Sauce
5 garlic cloves, finely chopped
1 small onion, finely chopped
3/4 cup water
120 g cream cheese, room temperature
1/2 teaspoon turmeric powder
salt & black pepper to taste
INSTRUCTIONS
Heat canola oil in a skillet over medium heat. Add onions and fry until tender and slightly golden, about 5 minutes. Add turmeric powder and stir gently. Increase the heat to medium-high, add chickens and cook until no longer pink, stirring occasionally. Reduce the heat to medium. Add water. Cover the skillet and simmer for 5 minutes. Add salsa sauce, chopped garlic and simmer covered until the chicken is cooked through, stirring occasionally. Add sliced olives, cream cheese and some salt and black pepper to taste. Cook until cheese is melted. If it's too thick, add more water. If it's too thin, cook to desired thickness.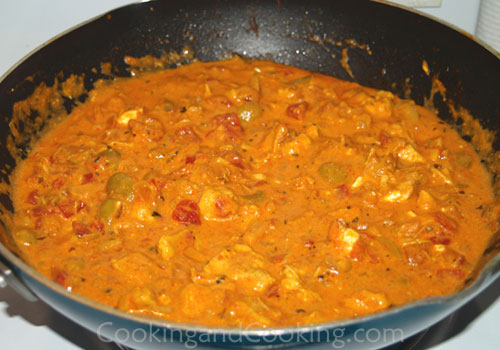 Cook pasta in a large pot of boiling salted water until just tender but still firm to bite (or cook the pasta according to the package directions).
When pasta is ready, drain and toss with olive oil, then transfer to a serving dish. Gently toss pasta with chicken mixture. Serve immediately.
Note: Please do not use our photos without prior written permission.
Thank you!

Print
You might also like these recipes...
Stay In Touch