Categories
By Ingredient
Special Occasions
More Links
Capri Salad
Posted on 2010-12-24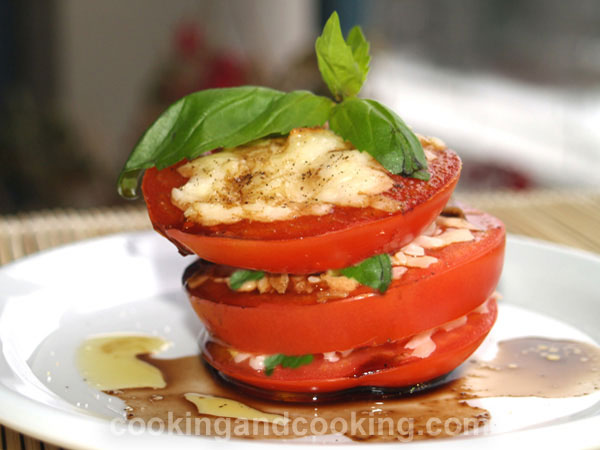 Capri Salad is a simple and elegant salad recipe made with fresh tomatoes, fresh basil and mozzarella. Capri salad can easily be served as an appetizer, salad or side dish.

Print
---
Yield: Serves 5
INGREDIENTS
3 medium ripe fresh tomatoes, about 400 g
2 tablespoons extra-virgin olive oil
3-4 tablespoons balsamic vinegar
17 fresh basil leaves
1/2 cup black olives, sliced
1/2 cup mozzarella cheese, grated
salt & black pepper to taste
INSTRUCTIONS
Using a sharp knife cut the tomatoes into thin slices (1/4 inch thick). Take one slice of tomato; layer grated cheese, olives and basil. Top with second tomato slice, and repeat layering process. Top with third tomato slice and sprinkle with more cheese.
Place each stack under preheated hot broiler until cheese is melted. Drizzle over the balsamic vinegar and olive oil. Season to taste with salt and black pepper. Transfer to serving dishes and garnish with basil leaves. Serve immediately.
Note: Please do not use our photos without prior written permission. Thanks!

Print
You might also like these...
Stay In Touch