Categories
By Ingredient
Special Occasions
More Links
Cabbage and Carrot Salad
Posted on 2011-10-28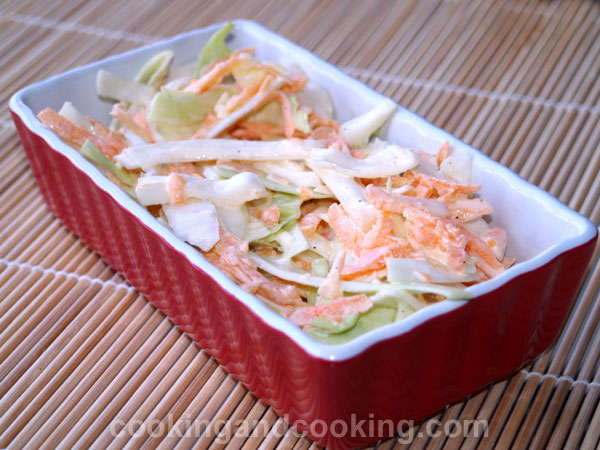 Looking for a fast, healthy and tasty salad recipe? Try this Cabbage and Carrot Salad as a delicious addition to your lunch and dinner.

Print
---
Yield: Serves 3
INGREDIENTS
200 g (about 3 cups) white cabbage, thinly sliced and washed
2 medium carrots (about 2 cups), peeled and grated on the large holes of a box grater
1/4 cup yogurt
1/2 cup mayonnaise
2 tablespoons extra-virgin olive oil
3 tablespoons white wine vinegar
1/2 teaspoons sugar
salt & black pepper to taste
INSTRUCTIONS
For the dressing: in a small bowl, whisk together the mayonnaise, yogurt, olive oil, vinegar and sugar. Add salt and black pepper to taste. Set the dressing aside.
In a salad bowl, toss the cabbage with the carrot. Pour the dressing over the vegetables and toss gently until thoroughly coated. Serve immediately.
Note: Please do not use our photos without prior written permission. Thanks!

Print
You might also like these...
Stay In Touch