Categories
By Ingredient
Special Occasions
More Links
Bell Pepper Salad
Posted on 2016-08-05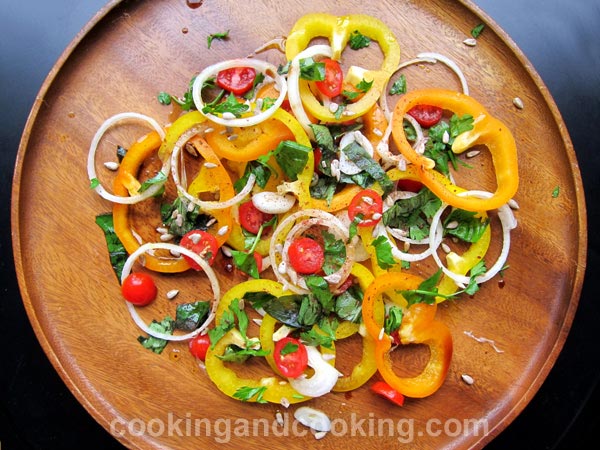 If you are making a special meal and you want to impress your guests with a delicious and colorful salad, try this easy Bell Pepper Salad. This salad is a healthy combination of bell pepper, onion, parsley, basil and tomato and has a crunchy texture and sour-sweet flavor.

Print
---
Yield: Serves 3-4
INGREDIENTS
1 orange bell pepper, thinly sliced into rings
1 yellow bell pepper, thinly sliced into rings
1 small onion, thinly sliced into rings
1 cup halved grape tomatoes
3/4 cup chopped fresh basil
1/2 cup chopped fresh parsley
2 tablespoons olive oil
3 tablespoons balsamic vinegar
1/4 cup sunflower kernels
sumac for garnish
salt and black pepper to taste
INSTRUCTIONS
Toss the bell peppers, onion, tomatoes, olive oil, and balsamic vinegar in a large bowl; season with salt and pepper. Let sit for 5-10 minutes.
Just before serving, toss with the sunflower kernels, parsley and basil. Garnish with sumac and serve.
Note: Please do not use our photos without prior written permission. Thanks!

Print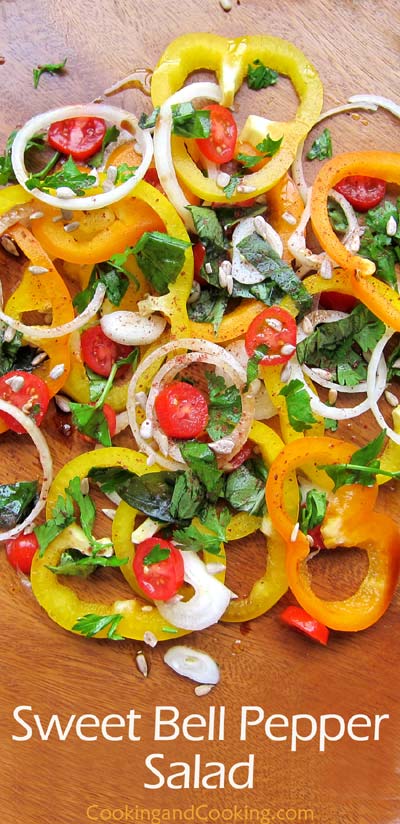 You might also like these...
Stay In Touch