Categories
By Ingredient
Special Occasions
More Links
Beet Salad Recipe
Posted on 2010-02-02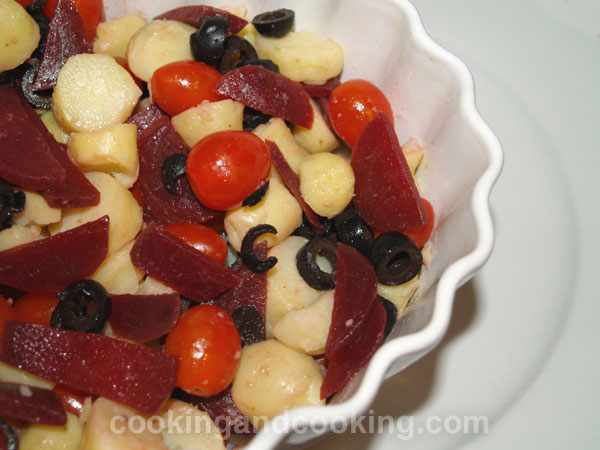 This easy Beet Salad adds a wonderful colour to a dinner table. This elegant Beet Salad works great as a side dish with grilled meats too.

Print
---
Yield: Serves 4
INGREDIENTS
1 can (398 ml) sliced beets, drained and cut into even strips (or click for Cooking Fresh Beets recipe)
400 g fingerling potatoes
4 tablespoons extra-virgin olive oil
1/4 cup fresh lemon juice
1/4 cup balsamic vinegar
3/4 cup sliced black olives
300 g grape tomatoes
feta cheese for garnish (optional)
salt & pepper to taste
INSTRUCTIONS
For dressing: mix the extra-virgin olive oil, balsamic vinegar, fresh lemon juice, salt and pepper to taste. Set the dressing aside.
Wash the potatoes and put them into a pot. Pour water until potatoes are covered and bring to boil. Add a teaspoon salt and reduce heat to medium. Cover the pot and simmer until done - a fork can easily be poked through them. Drain water from potatoes, peel and slice them.
In a bowl combine the sliced potatoes, beets, grape tomatoes and black ripe olives. Sprinkle dressing over salad. Garnish with the feta cheese and serve.
Note: Please do not use our photos without prior written permission.
Thank you!

Print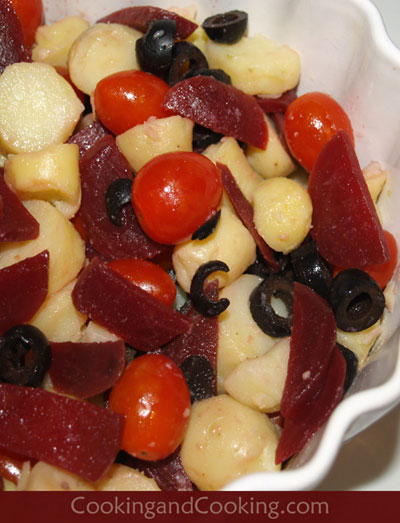 You might also like these recipes...
Stay In Touch
Join my Telegram Channel