Categories
By Ingredient
Special Occasions
More Links
Baked Salmon with Spinach and Mushrooms
Posted on 2012-05-25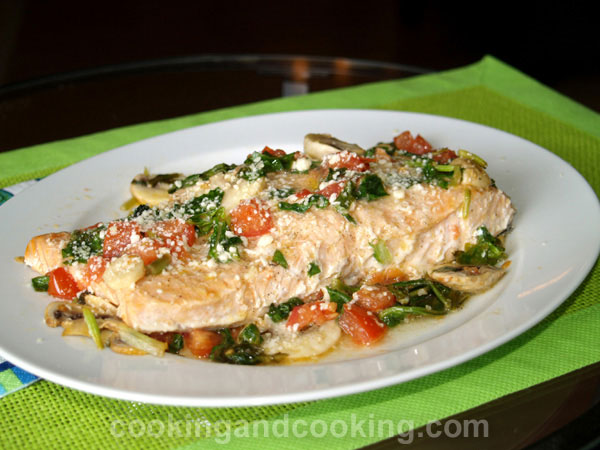 Baked Salmon with Spinach and Mushrooms is fantastic, and one of the easiest recipes for baked salmon you will find. Baked Salmon with Spinach and Mushrooms is a tasty and healthy way to prepare fish and a perfect lunch idea.

Print
---
Yield: Serves 2-3
INGREDIENTS
450 g salmon fillets, with skins
medium mushrooms, sliced
2 cups chopped fresh spinach leaves
1 cup chopped tomato
1/2 teaspoon garlic powder
3 tablespoons extra-virgin olive oil
1 tablespoon lemon juice
grated Parmesan cheese
salt and black pepper to taste
INSTRUCTIONS
Preheat oven to 375 degrees F. Wash the salmon fillets and pat dry. Season with salt and pepper. Spray an 11x8-inch baking dish with cooking spray. Place the fillets, skin-sides down, in the baking dish.
Combine remaining ingredients and spoon over the fish. Place the baking dish on the middle rack of the oven and bake uncovered for 20-25 minutes or until fish flakes easily with fork. Sprinkle with Parmesan cheese and serve.
Note: Please do not use our photos without prior written permission. Thanks!

Print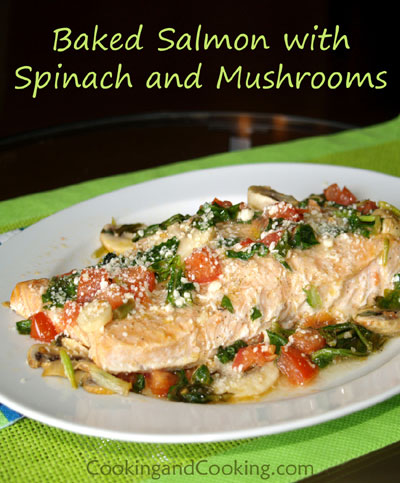 You might also like these...
Stay In Touch