Categories
By Ingredient
Special Occasions
More Links
Baked Potato Casserole
Posted on 2012-11-26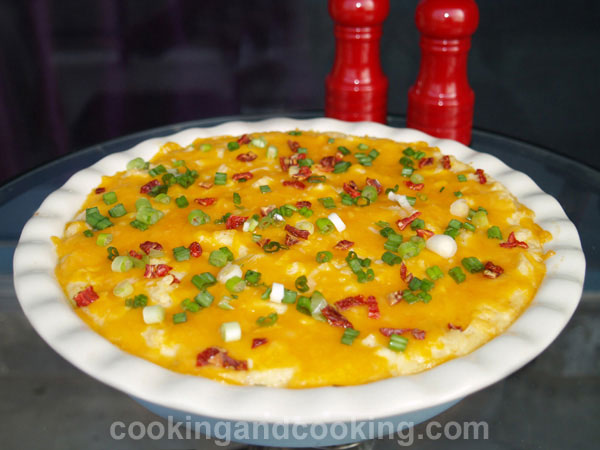 Baked Potato Casserole is one of the easiest potato side dish recipes that you can easily turn it to main dish by adding just few more ingredients. This cheesy potato casserole is a perfect side dish for steak, roasted meats or chicken.

Print
---
Yield: Serves 6
INGREDIENTS
4 medium potatoes, about 1.2 kg
1/2 cup milk
3/4 cup sour cream
1 tablespoon butter, room temperature
125 g cream cheese, room temperature
1 1/2 cups shredded cheddar cheese
chopped sundried tomatoes
2 green onions, sliced
1/4 teaspoon chilli powder
salt & black pepper to taste
INSTRUCTIONS
Place the potatoes in a large saucepan. Cover with water and add salt. Bring to a boil. Cook over medium-high heat until tender, about 45-50 minutes. Drain and peel the potatoes.
Mash the potatoes in a large bowl with potato masher or back of fork. Add the butter, cream cheese, milk, sour cream, 1/2 cup of cheddar cheese, chilli powder, salt and pepper. Stir well.
Preheat oven to 350 degrees F. Spray a baking dish with cooking spray. Place the potato mixture in the baking dish.
Bake for 20-25 minutes. Remove from oven and sprinkle remaining cheddar cheese on top. Return to oven and bake until cheese melts. Garnish the potato casserole with sundried tomato and green onion. Serve and enjoy!
Note: Please do not use our photos without prior written permission. Thanks!

Print
You might also like these...
Stay In Touch