Categories
By Ingredient
Special Occasions
More Links
Baguette with Cream Cheese
Posted on 2010-01-25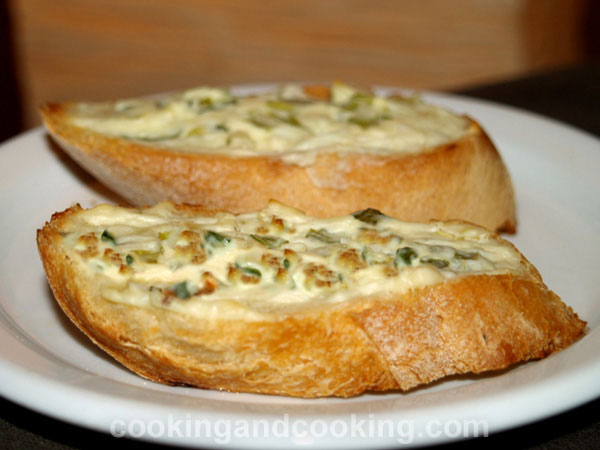 Baguette with Cream Cheese recipe is a quick appetizer or party snack recipe using baguette, garlic and cream cheese. Baguette with Cream Cheese can be served as a side dish for pasta and soup as well.

Print
---
Yield: Serves 6
INGREDIENTS
1 baguette French bread or similar Italian bread, sliced (3/4-inch thick)
10 garlic cloves, minced
3/4 cup green onions, diced
4 tablespoons extra-virgin olive oil
250 g cream cheese at room temperature
INSTRUCTIONS
In a bowl, mix the cream cheese and extra-virgin olive oil until smooth. Add the diced green onions and minced garlic; mix well (mixture should be thick).
Preheat oven to 370 degrees F. Spread a thick layer of cream cheese mixture on each baguette slice (one side). Place the slices on baking tray. Make sure to leave enough space between each so they don't stick together. Bake until tops are a little golden, about 10 minutes. Serve immediately.
Note: Please do not use our photos without prior written permission. Thanks!

Print
You might also like these...
Stay In Touch