Categories
By Ingredient
Special Occasions
More Links
Avocado Taco Dip
Posted on 2010-08-16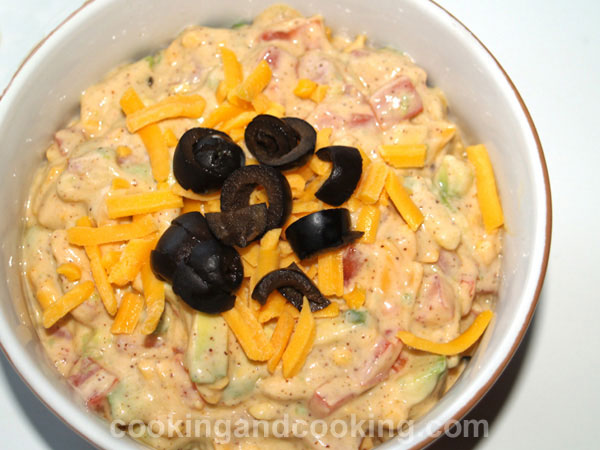 If you are looking for an easy to make and delicious appetizer recipe, Avocado Taco Dip will serve your needs perfectly.
Avocado Taco Dip made with ripe avocado, cheddar cheese, tomato, sour cream, black olives, and taco seasoning, is one of the easiest dip you could make at home.

Print
---
Yield: Serves 5-6
INGREDIENTS
1 cup light sour cream
1 cup tomato, diced
4-5 teaspoons taco seasoning mix
1 ripe avocado, diced
1 cup medium shredded cheddar cheese
1/2 cup black olives, chopped or sliced (if olives are salty, soak them in the cold water for 15-20 minutes and then drain)
INSTRUCTIONS
Combine sour cream and taco seasoning mix in a medium bowl. Add tomatoes, avocadoes and 3/4 cup of the shredded cheese; mix lightly. Place into a serving dish; top with remaining 1/4 cup shredded cheese and sprinkle with olives. Serve with French bread, cracker or tortilla chips.
Note: Please do not use our photos without prior written permission. Thanks!

Print
You might also like these...
Stay In Touch