Categories
By Ingredient
Special Occasions
More Links
Asian Noodle Salad
Posted on 2013-07-07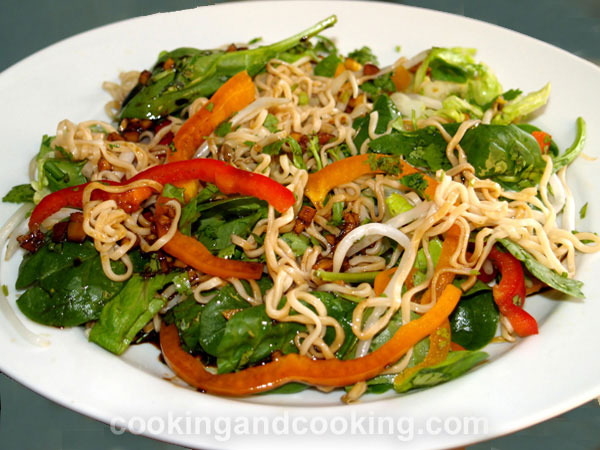 If you are looking for a fresh and cold salad recipe you have to try Asian noodle salad. This Asian noodle salad is one of those cold salads which is easy to make and tastes so good that you have to keep making it.
To prepare this salad just cook the noodles, mix all the ingredients, pour the salad dressing on top, toss and serve.

Print
---
Yield: Serves 6
INGREDIENTS
For salad:

110 g dried Chinese noodles
1 medium orange bell pepper, sliced in julienne strips
1 medium red bell pepper, sliced in julienne strips
2 1/2 cups fresh bean sprouts
3 green onions, both green and white parts, sliced
1 1/2 cups chopped fresh cilantro
3 cups romaine lettuce, rinsed, patted dry and torn in bite-size pieces
2 1/2 cups baby spinach

For sauce:

3 tablespoons finely chopped fresh peeled ginger
4 tablespoons olive oil
1/4 cup soy sauce
3 tablespoons lemon juice
3 teaspoons sugar
2 garlic cloves, finely chopped
4-5 drops hot sauce or depends on your taste
INSTRUCTIONS
In a cooking pot, bring 1 1/2 cups water to a boil. Add the noodles and cook uncovered for 3 minutes. Drain off the water in a strainer and set aside (or cook the noodles according to the package directions, drain and set aside).
In a large bowl, toss together lettuce, cooked noodles, bell pepper, bean sprouts, green onion, cilantro and spinach.
For dressing, mix olive oil, lemon juice, soy sauce, garlic, ginger, hot sauce and sugar. Taste and adjust seasonings. Gradually toss enough of the dressing with noodle salad to coat (add the sauce just before serving).
Note: Please do not use our photos without prior written permission. Thanks!

Print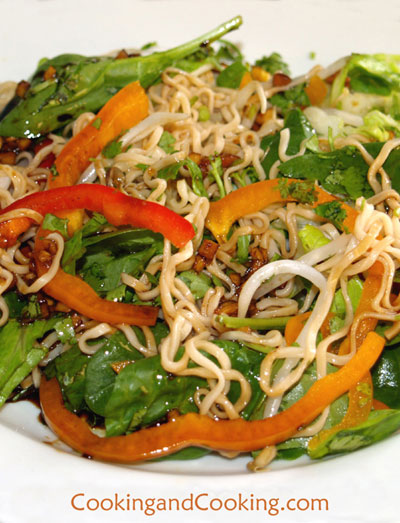 You might also like these...
Stay In Touch