Categories
By Ingredient
Special Occasions
More Links
Abgoosht (Lamb Shank and Potato Stew)
Posted on 2017-11-18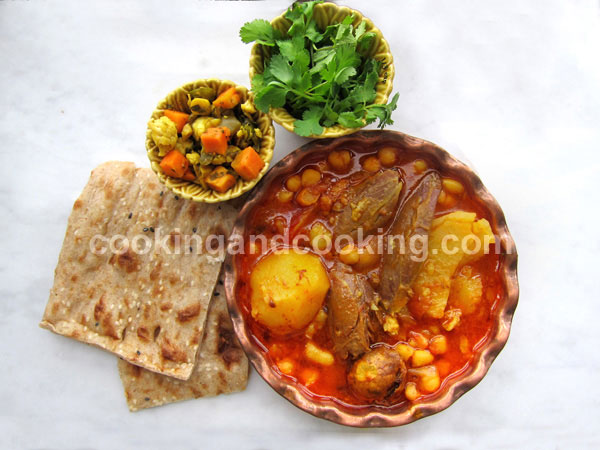 Abgoosht or Dizi (Persian Lamb Shank and Potato Stew) is one of the most traditional Iranian foods. It is a delightful combination of lamb shank (or neck or ribs), potatoes, onion, tomatoes, beans, spices, and dried limes. All the ingredients are combined together and cooked until done.
For serving Abgoosht, first the broth is poured in a bowl and served with small pieces of bread (usually Sangak flatbread) soaked in it. Then the remaining ingredients mashed up to a mashed-potato type consistency and served separately with bread.

Print
---
Yield: Serves 6
INGREDIENTS
5 small lamb shanks
1 cup dried white beans, soaked overnight
1 cup dried chickpeas, soaked overnight
2 onions, finely chopped
4 garlic cloves
1 medium carrot, cut into large pieces
4 tomatoes, cut each one into 4 pieces
4 medium potatoes, peeled and cut into large pieces
5 dried limes (you can find dried limes at any Iranian store)
2-3 tablespoons tomato paste
1 1/2 teaspoons ground cinnamon
2 1/2 teaspoons turmeric powder
salt & pepper to taste
INSTRUCTIONS
First drain the beans. Place the lamb shanks, onion, chickpeas, white beans, garlic, carrot, dried limes, turmeric powder, and tomatoes in a large pot.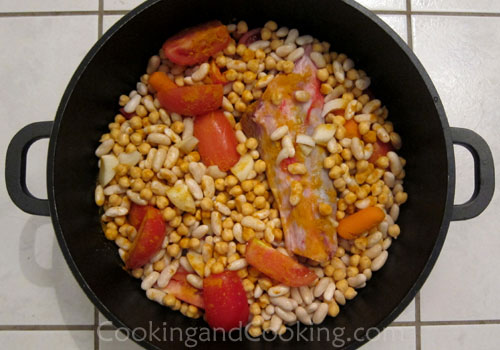 Add 9-10 cups of water and bring to a boil. Reduce heat to medium. Cover the pot and cook for 2 hours.
When meat is almost cooked, add the tomato paste, salt, pepper, and cinnamon. Cover the pot and continue cooking for 45 minutes. Then add the potatoes and cook covered on low heat until potatoes are tender.
When all the ingredients are fully cooked, discard the carrot and garlic. Taste and adjust the seasoning and serve warm.
Note: Please do not use our photos without prior written permission. Thanks!

Print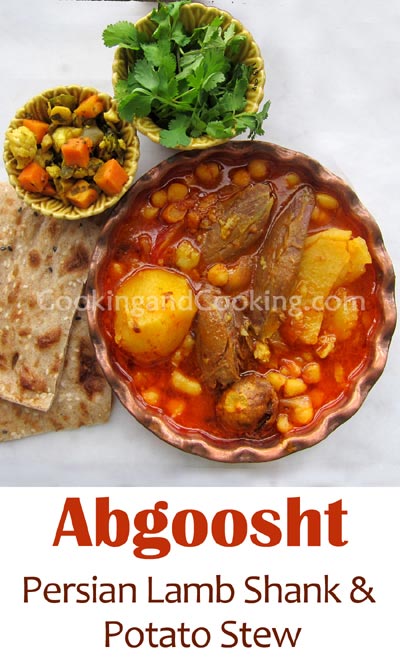 You might also like these...
Stay In Touch