Categories
By Ingredient
Special Occasions
More Links
Zeytoon Parvardeh, Persian Olive and Pomegranate
Posted on 2012-02-02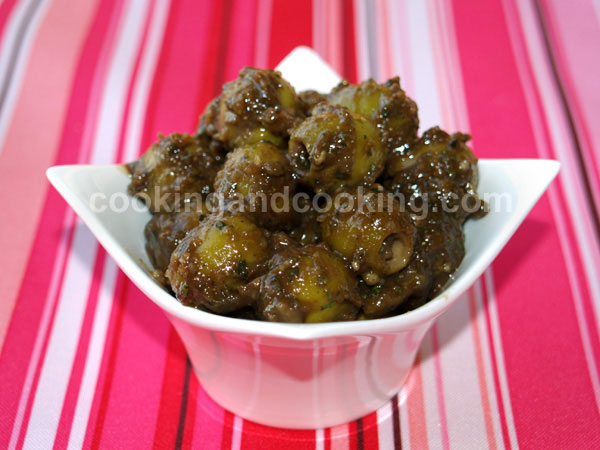 Zeytoon Parvardeh is a popular appetizer recipe from Northern Province of Iran (Gilan). It is made with green olives, pomegranate paste, walnuts, garlic and herbs. You have to try it, you will love it!

Print
---
Yield: Serves 6
INGREDIENTS
3 cups (about 370 g) pitted green olives, drained (if olives are too salty, soak them in the cold water for 15-20 minutes and then drain)
1/2 cup pomegranate paste or concentrated pomegranate, add more or less, depends on your taste (you can find it at any Iranian store)
1 1/4 cups (about 120 g) walnuts
1 tablespoon dried mint
1 teaspoon dried oregano leaves
3/4 tablespoon ground angelica, also known as Golpar
5 garlic cloves
1 tablespoon olive oil
salt
INSTRUCTIONS
Grind walnuts and garlic in a food processor until finely ground. Place in a medium-sized bowl. Add the pomegranate paste, olive oil, mint, oregano, angelica and pepper; combine well. Add the olives and mix well. Taste for seasoning, add salt if needed.
You can serve it immediately or for better result, refrigerate at least for 4 hours before serving. Zeytoon Parvardeh can be stored covered in the refrigerator for about a week.
Note: Please do not use our photos without prior written permission. Thanks!

Print
You might also like these...
Stay In Touch