Categories
By Ingredient
Special Occasions
More Links
Yogurt Chicken Casserole
Posted on 2015-02-04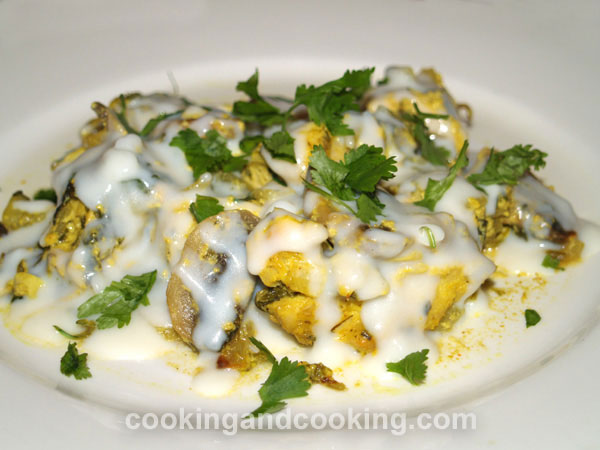 If you are fan of chicken and looking for a new recipe idea to make chicken, try this Yogurt Chicken Casserole recipe. This easy chicken dish made with chicken, mushroom, plain yogurt, coriander, celery, seasonings and garnished with White Sauce or Bechemal Sauce.

Print
---
Yield: Serves 4
INGREDIENTS
For casserole:

500 g boneless & skinless chicken, cut into 1 1/4 inches pieces
9 mushrooms, sliced
1 stalk celery, chopped
1 cup plain yogurt
1 onion, finely chopped
1 cup chopped fresh cilantro and a little more for garnish
4 garlic cloves, minced
2 tablespoons olive oil
1 tablespoon lemon juice
1/4 teaspoon turmeric powder
1 teaspoon curry powder
1/2 teaspoon lemon zest
salt & black pepper to taste

For white sauce:

2 cups cold milk
3 tablespoons flour
1/8 cup butter
salt & pepper to taste
INSTRUCTIONS
To make the marinade, combine the yogurt, olive oil, onion, garlic, curry, turmeric powder, cilantro, lemon juice, lemon zest, salt and pepper in a bowl. Add the chicken pieces and combine well. Refrigerate for 30 minutes.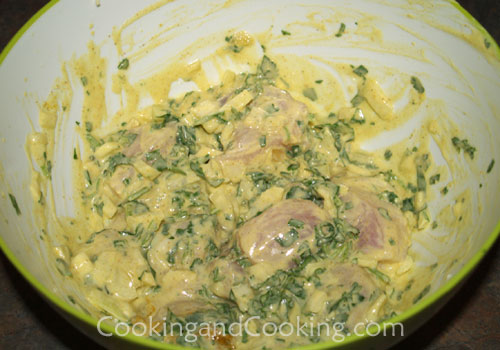 Preheat oven to 390 degrees F. Add the mushrooms and celery and stir gently. Place the chicken mixture and its marinade in an 11x8-inch baking dish or larger dish.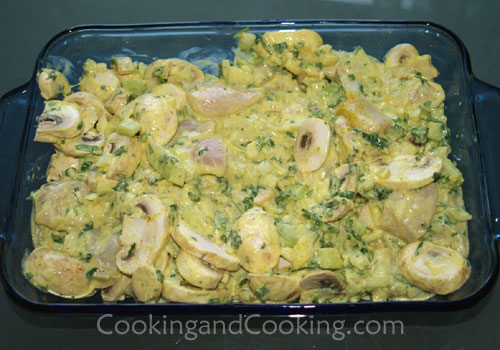 Bake in the oven until chicken is fully cooked through, about 55-60 minutes (cooking time depends on size of the pieces), stirring at halftime.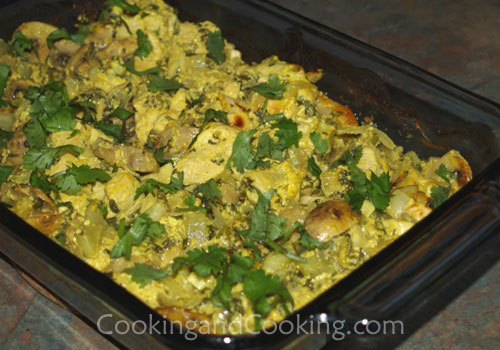 While the casserole is baking, prepare the white sauce. Dissolve flour in cold milk. Set aside. Melt the butter in a saucepan over low heat. Add the dissolved flour into the melted butter. Stir constantly until mixed and all the lumps are gone, about 2 minutes. Add salt and pepper to taste. Continue cooking over low heat until sauce begins to thicken, stirring constantly.
Pour the white sauce over the yogurt chicken casserole and garnish with cilantro.
Note: Please do not use our photos without prior written permission. Thanks!

Print
You might also like these...
Stay In Touch