Categories
By Ingredient
Special Occasions
More Links
Yellow Split Pea Soup
Posted on 2014-12-10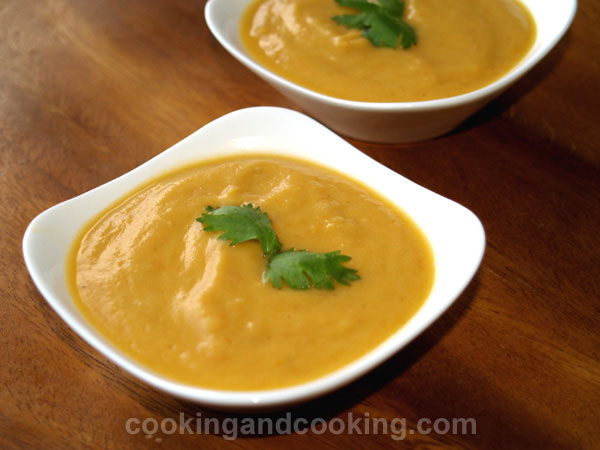 Yellow Split Pea Soup is a delicious and healthy soup recipe. All you need is some yellow split peas, carrots, onion, chicken (or vegetable) broth and a few spices. Serve this split pea soup with garlic bread or buns.

Print
---
Yield: Serves 5
INGREDIENTS
1 cup dried yellow split peas
1 medium onion, chopped
2 garlic cloves, chopped
5 cups chicken (or vegetable) broth
1 medium carrot, chopped
1 tablespoon Worcester sauce
1 teaspoon curry powder
2 tablespoons vegetable oil
salt & black pepper to taste
fresh coriander for garnish
INSTRUCTIONS
Heat the oil in a large pot. Add the onion and saute until golden. Add garlic, stir for 1 minute. Add yellow split peas, carrot, chicken broth, Worcester sauce, curry powder, 1 cup water, salt and pepper. Bring to a boil, then lower to a simmer and cook for 60-80 minutes.
Remove from heat and let the soup cool slightly. Then puree in a blender or food processor until smooth (If soup is too thick, add a little water). Garnish with fresh coriander and serve with bread.
Note: Please do not use our photos without prior written permission. Thanks!

Print
You might also like these...
Stay In Touch