Categories
By Ingredient
Special Occasions
More Links
Vegetable Pasta Salad
Posted on 2009-11-25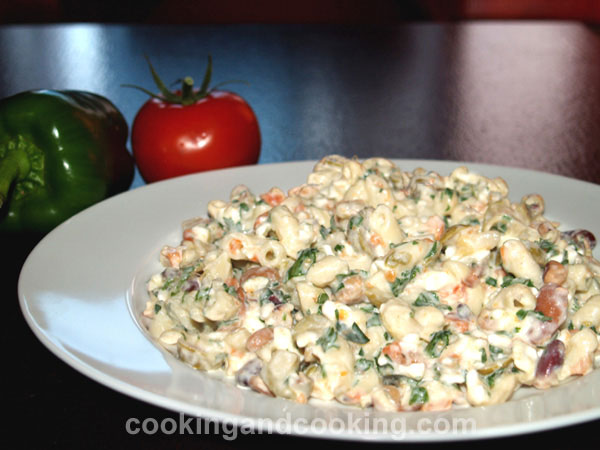 Vegetable Pasta Salad is a cold pasta salad loaded with fresh vegetables and dressed in cottage cheese and sour cream!

Print
---
Yield: Serves 4
INGREDIENTS
1 cup dried pasta
2/3 cup sliced olives (if olives are salty, soak them in the cold water for 15-20 minutes and then drain)
2/3 cup chopped fresh parsley
1 cup canned mixed beans (garbanzo, red kidney), rinsed and drained
1/2 cup canned green peas, rinsed and drained
2 medium peeled and chopped fresh carrots
1 cup cottage cheese (or 6 tablespoons mayonnaise)
3 tablespoons sour cream
2 tablespoons extra-virgin olive oil
2 tablespoons lemon juice (you can add more)
salt & pepper to taste
INSTRUCTIONS
Cook the chopped carrots in a pot of boiling water until tender. Drain off the water and set aside.
Cook the pasta in a large pot of boiling salted water until just tender but still firm to bite. Drain and rinse with cold water until room temperature.
Combine the cottage cheese, lemon juice, sour cream, olive oil, salt and pepper. Add pasta, sliced olives, chopped parsley, carrots, mixed beans and green peas. Toss to coat and chill salad in the refrigerator. Let stand at room temperature 1 hour before serving.
Note: Please do not use our photos without prior written permission. Thanks!

Print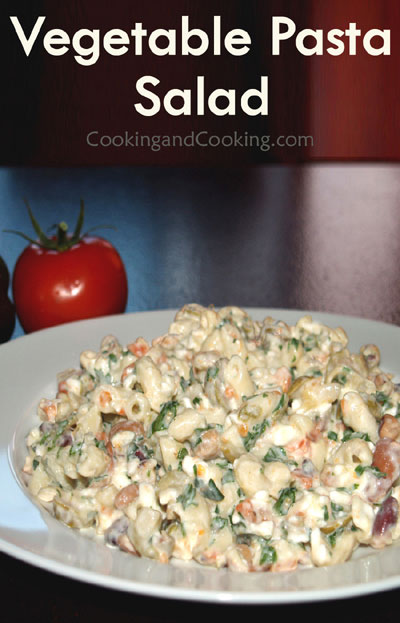 You might also like these...
Stay In Touch