Categories
By Ingredient
Special Occasions
More Links
Tuna Vegetable Salad
Posted on 2014-05-13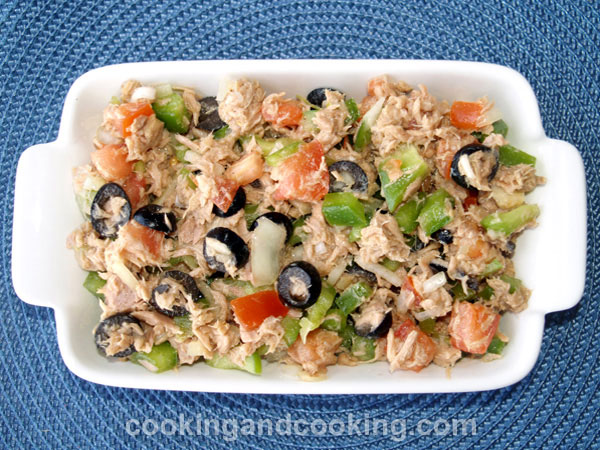 Here is a simple and healthy tuna salad recipe without mayo. There are just a couple steps for creating this delicious tuna salad, just chop the vegetables, mix them with tuna, taste, adjust the seasoning and eat!

Print
---
Yield: Serves 4
INGREDIENTS
2 cans of tuna (each 198 g), drained
1/2 cup finely chopped onion
2 garlic cloves, finely chopped
3/4 cup sliced black olives
1 medium bell pepper, diced
1 medium tomato, diced
2-3 tablespoons lemon juice
2 tablespoons olive oil
1 tablespoon Worcestershire sauce
salt & pepper to taste
INSTRUCTIONS
In a medium salad bowl, break up the tuna with a fork. Add rest of the ingredients and mix well. Taste and adjust seasonings. Serve tuna vegetable salad with any kind of bread you like.
Note: Please do not use our photos without prior written permission. Thanks!

Print
You might also like these...
Stay In Touch