Categories
By Ingredient
Special Occasions
More Links
Toot Confection, Persian Marzipan Mulberry
Posted on 2011-05-23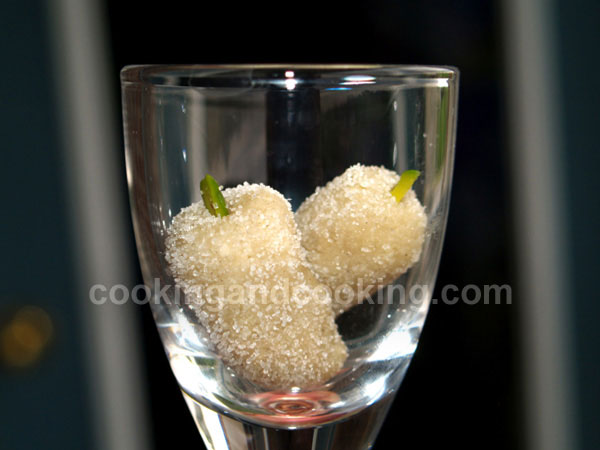 Toot confection or Persian Marzipan Mulberry is one of the Persian sweets, especially for Norooz (Iranian New Year). This recipe is so simple and is made with only a few ingredients. These toots are perfect with a cup of hot black tea.

Print
---
Yield: Serves 6
INGREDIENTS
1 2/3 cups (about 170 g) unsalted skinless almonds (I used slivered almonds)
1 cup (about 120 g) icing sugar (also known as powdered sugar or confectioners' sugar)
1 teaspoon ground cardamom
4-5 tablespoons white sugar
4 tablespoons rosewater (you can find it at any Iranian store)
slivered pistachios
INSTRUCTIONS
Using a food processor, grind the almonds into a fine powder. In a bowl, mix the ground almonds, icing sugar, ground cardamom and rosewater. Using your hands, combine until you get soft dough.
Spread the white sugar on a plate.
Take a small piece of dough and shape into white mulberries and roll each in white sugar. Then insert a sliver of pistachio as a stem.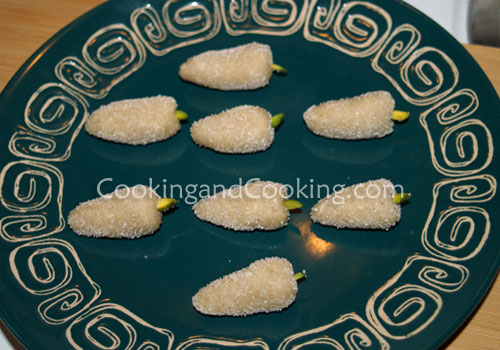 Arrange on a serving platter and serve with a cup of black tea. Store covered.
Note: Please do not use our photos without prior written permission. Thanks!

Print
You might also like these...
Stay In Touch