Categories
By Ingredient
Special Occasions
More Links
Tomato Bulgur Soup
Posted on 2012-07-24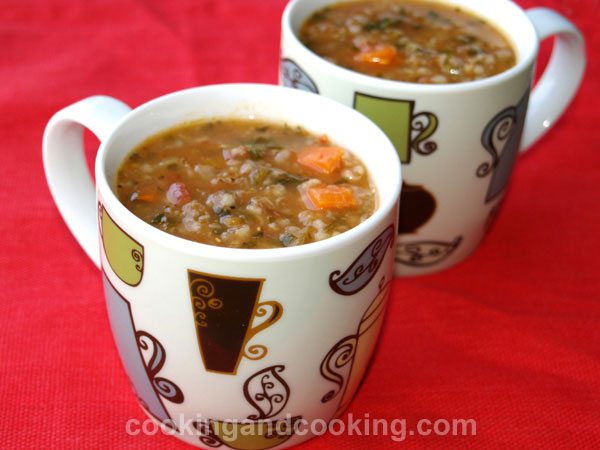 This super easy-to-make Tomato Bulgur Soup is the perfect combination of bulgur, tomato, mint, coriander and spices, which will make a great starter or even main course. I added chicken broth, but you can use vegetable broth.

Print
---
Yield: Serves 7-8
INGREDIENTS
1 cup uncooked bulgur (cracked wheat)
1 medium onion, finely chopped
3 garlic cloves, finely chopped
3 medium carrots, peeled and diced
3 medium tomatoes, diced
2 cups fresh coriander, finely chopped
1 tablespoon dried mint
5 cups water
2 cups chicken broth or vegetable broth
7 tablespoons crushed tomatoes
2 tablespoons extra-virgin olive oil
1 tablespoon lemon juice (optional)
1/4 teaspoon ground cinnamon
salt and pepper
INSTRUCTIONS
Heat the olive oil in a large pot over medium heat. Add the onion and saute for 5 minutes. Add the garlic and saute for 1 minute. Add the bulgur, 5 cups water, carrot, salt and pepper to taste. Stir well. Cover the pot and bring to a boil. Reduce heat to medium-low and simmer covered for 10 minutes.
Then add the tomato, chicken broth, dried mint, coriander, crushed tomatoes and ground cinnamon. Simmer covered over medium-low heat until bulgur and vegetables are tender (about 40-45 minutes), stirring occasionally. Add more water during cooking if necessary. Add the lemon juice. Taste and adjust seasonings. Serve tomato bulgur soup hot.
Note: Please do not use our photos without prior written permission. Thanks!

Print
You might also like these...
Stay In Touch