Categories
By Ingredient
Special Occasions
More Links
Taco Soup
Posted on 2011-08-18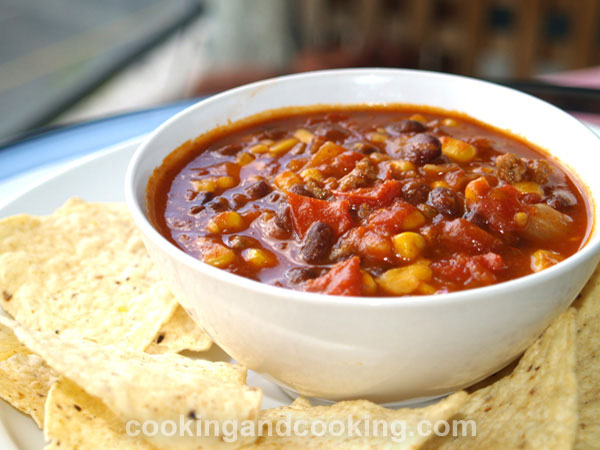 Taco soup is easy, hearty and a perfect meal for a chilly night. Serve this flavourful soup with tortillas or any kind of bread you like.

Print
---
Yield: Serves 6
INGREDIENTS
300 g extra lean ground beef
1 medium onion, finely chopped
1 can (540 mL) black beans, about 2 cups, drained
1 can (341 mL) whole kernel corn, about 1 1/2 cups, drained
3 tomatoes (about 3 cups), diced
2 cups crushed tomatoes
1 package (35 g) taco seasoning
3 cups water
5 tablespoons canola oil
salt and black pepper to taste
INSTRUCTIONS
Heat canola oil in a large pot over medium heat; add chopped onions and saute for 10 minutes. Add ground beef and brown until cooked through (about 5 minutes), stirring often to break up the beef.
When well browned, add crushed tomatoes, diced tomatoes, black beans, kernel corn, taco seasoning and water. Simmer uncovered over medium heat until desired thickness (about 35-40 minutes), stirring occasionally. Season with salt and pepper. Serve with tortillas or any kind of bread you like.
Note: Please do not use our photos without prior written permission. Thanks!

Print
You might also like these...
Stay In Touch