Categories
By Ingredient
Special Occasions
More Links
Taco Salad
Posted on 2013-04-02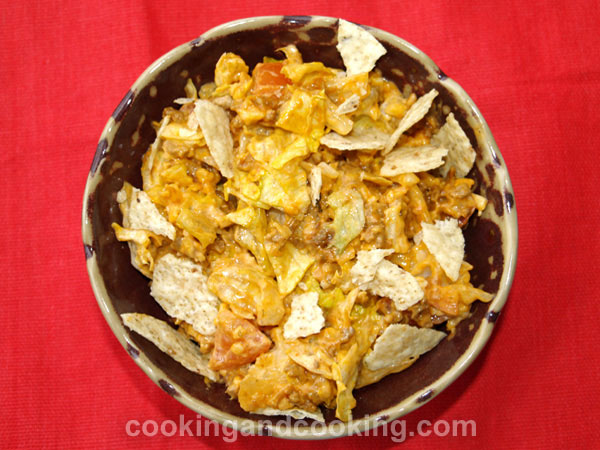 Taco salad is one of my favorite salad recipes that I can probably eat every day. Taco salad is a super easy and delicious Mexican salad recipe, a perfect combination of ground beef, taco seasoning, ketchup, mayo, tomato, lettuce and cheese. Taco salad can be served as an easy light meal or side dish.

Print
---
Yield: Serves 5-6
INGREDIENTS
250 g extra lean ground beef
1 small onion, finely chopped
1 large tomato, diced
1/3 cup ketchup
2 tablespoons crushed tomatoes
1/2 cup mayonnaise
2 tablespoons taco seasoning
1/4 teaspoon turmeric powder
cooking oil
1/2 tablespoon dried oregano leaves
5 cups torn lettuce
1/2 cup shredded cheddar cheese
1/2 cup shredded mozzarella cheese
corn chips, optional
salt & pepper to taste
INSTRUCTIONS
Heat 1 tablespoon oil in a skillet over medium heat. Add the onion and saute for 6 minutes. Increase heat to medium-high; add the ground beef and saute until no longer pink, stirring occasionally.
Drain well and return to the skillet if needed. Add the ketchup, crushed tomatoes, turmeric, oregano, taco seasoning, salt and pepper. Cover the skillet and cook over medium-low heat for 10 minutes. Taste and adjust seasonings. Set aside.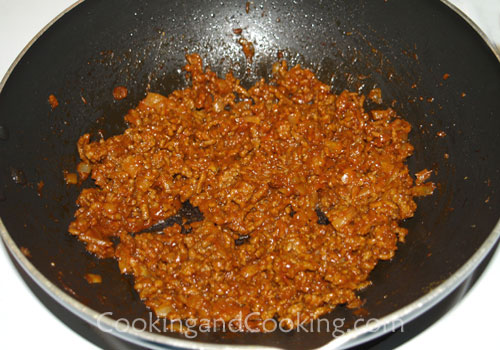 In a large bowl, combine the lettuce, tomato, beef mixture, mayonnaise, cheddar, and mozzarella cheese. Sprinkle with corn chips. Serve immediately.
Note: Please do not use our photos without prior written permission. Thanks!

Print

You might also like these...
Stay In Touch