Categories
By Ingredient
Special Occasions
More Links
Tabouleh
Posted on 2012-03-05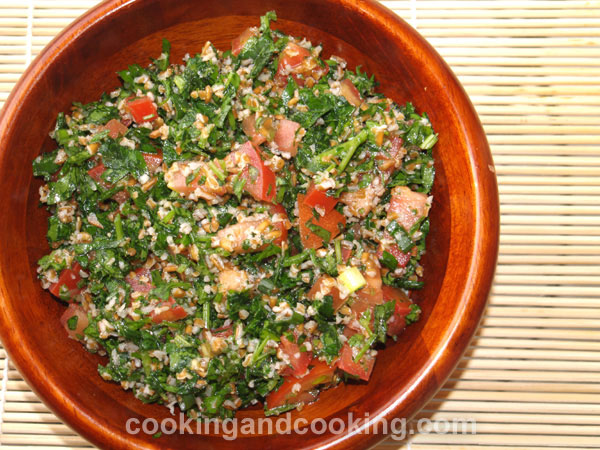 Tabbouleh or Tabouleh is a popular Middle Eastern salad made of bulgur, tomato, parsley, mint and lemon juice. It is the perfect salad for any lunch or dinner.

Print
---
Yield: Serves 7
INGREDIENTS
2/3 cup bulgur (cracked wheat), about 120 g
4 green onions, both green and white parts, thinly sliced
3 medium tomatoes, diced
3 1/3 cups fresh parsley, finely chopped
1/3 cup fresh mint, finely chopped
3 tablespoons extra-virgin olive oil
5-6 tablespoons fresh lemon juice
salt & black pepper to taste
INSTRUCTIONS
Soak the bulgur in salted (with 1 teaspoon salt) lukewarm water and let it stand in water for 1.30-2 hours or until softened. Drain in a strainer with fine mesh, pressing down with the back of a spoon to drain excess moisture.
In a large bowl, add the lemon juice, olive oil, bulgur salt and black pepper; mix well. Then add the tomatoes, parsley, green onions and mint; mix to combine. Taste the Tabouleh and adjust seasonings. Let marinate for at least 30 minutes before serving.
Note: Please do not use our photos without prior written permission. Thanks!

Print
You might also like these...
Stay In Touch