Categories
By Ingredient
Special Occasions
More Links
Sweet Potato Casserole with Pecan
Posted on 2016-09-17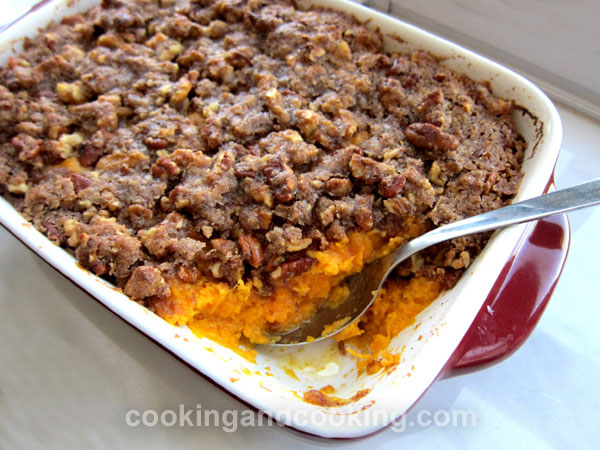 Sweet Potato Casserole with Pecan is one of my favorite desserts that can be served on any occasion. It's such a simple dish to make and it tastes amazing.
First, I cooked the sweet potatoes. After cooking the sweet potatoes, I removed them from their skins and mashed them up. Then I added the powdered sugar, eggs, vanilla extract and butter. I put the sweet potato mixture in a small baking dish and topped it with a mixture of pecans, butter, sugar, nutmeg, flour and cinnamon. Then I baked it for 30-35 minutes, until golden.

Print
---
Yield: Serves 5-6
INGREDIENTS
3 medium sweet potatoes, about 900 g, washed
1/3 cup powdered sugar
1/3 cup sugar
2 eggs, lightly beaten
1 teaspoon vanilla extract
1/3 cup milk
2 teaspoons ground cinnamon
1 teaspoon ground nutmeg
melted unsalted butter, about 1/2 cup + 3 tablespoons + more for brushing the baking dish
1/4 cup all-purpose flour
1 cup coarsely chopped pecans
INSTRUCTIONS
To prepare the sweet potatoes, place the sweet potatoes in a pot and cover them with water. Cover the pot and bring to a boil. Reduce heat to medium, and simmer until very tender. Remove the potatoes from their skins and place in a bowl. Add the powdered sugar, milk, beaten eggs, vanilla extract and 3 tablespoons melted butter and mash together.
To prepare the topping, in a separate bowl, combine the sugar, nutmeg, cinnamon, chopped pecans, flour, and 1/2 cup melted butter.
Preheat the oven to 350 degrees F.
Brush a 6x9 inch baking dish with melted butter. Place the potato mixture in the prepared baking dish and spread evenly.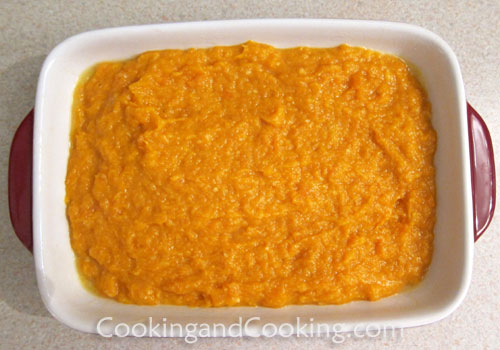 Spread the topping evenly over the sweet potatoes.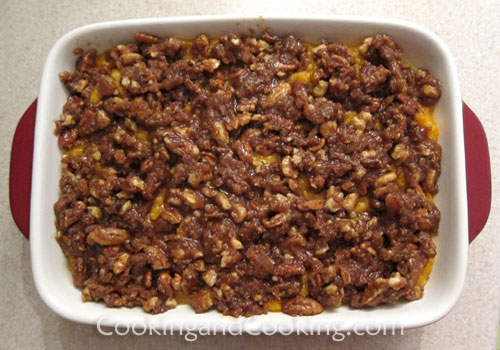 Bake in the oven for 30-35 minutes or until the pecan topping is golden. Serve it warm or cold.
Note: Please do not use our photos without prior written permission. Thanks!

Print

You might also like these...
Stay In Touch