Categories
By Ingredient
Special Occasions
More Links
Summer Mixed Salad
Posted on 2014-08-06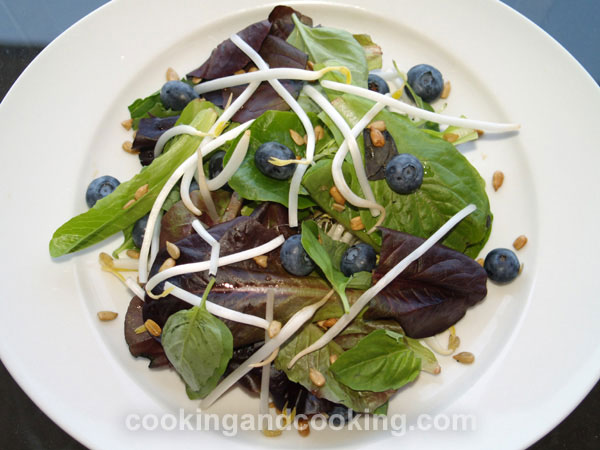 This mixed salad recipe is a fresh, simple, and colorful salad, which is perfect for summer days. Summer Mixed Salad is a quick salad recipe, using baby spinach, fresh basil, blueberry, fresh bean sprouts and sunflower seeds. You can serve it either as a starter or as a side. Use more or less of any ingredient to taste.

Print
---
Yield: Serves 2
INGREDIENTS
2 large handfuls of mixed greens including endive & baby spinach
1/2 cup fresh bean sprouts
1 cup fresh basil leaves
1/3 cup blueberry
2 tablespoons sunflower kernels
1-2 tablespoons balsamic vinegar
1 tablespoon olive oil
salt & black pepper to taste
INSTRUCTIONS
For the dressing, combine the olive oil, balsamic vinegar, salt and pepper. Set aside.
In a bowl, mix together the mixed greens, bean sprouts, basil leaves, blueberry and sunflower kernels. Add the dressing, toss and serve.
Note: Please do not use our photos without prior written permission. Thanks!

Print

You might also like these...
Stay In Touch