Categories
By Ingredient
Special Occasions
More Links
Sugar Snap Peas and Radish Salad
Posted on 2012-11-19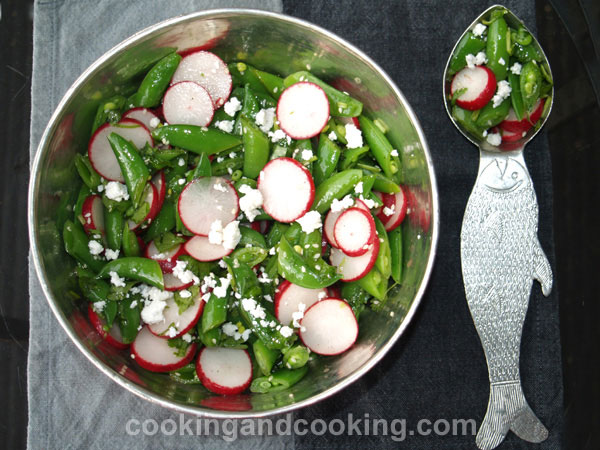 Sugar Snap Peas and Radish Salad is a colorful combination of sugar snap peas, radish, crumbled feta cheese, and fresh mint or fresh cilantro that is dressed with lemon juice, white vinegar and olive oil. This pea salad recipe is simple low carb meal or side dish, for vegetarian and those people who are on low carb diet.

Print
---
Yield: Serves 4-5
INGREDIENTS
400 g sugar snap peas, trimmed, stringed, cut in half on diagonal
1 1/4 cup trimmed and thinly sliced radish (about 170 g)
2 tablespoons extra-virgin olive oil
1 tablespoon lemon juice (or more)
1 tablespoon white wine vinegar
2 tablespoons chopped fresh cilantro or mint
1/2 cup crumbled feta cheese
1/2 tablespoon Sesame seeds
salt & black pepper to taste
INSTRUCTIONS
Bring a large pot of lightly salted water to a boil. While you wait for the water to boil, fill a large bowl with water and ice. Set the ice-water aside. Add the peas to boiling water and cook uncovered for 2 minutes. Drain and immediately place them in the ice-water for 2-3 minutes. Once cooled, drain the sugar snap peas and pat dry.
In a large bowl, gently toss the peas, radish, cilantro (or mint) and Sesame seeds together. Right before serving, dress with olive oil, lemon juice and white vinegar. Add salt and black pepper to taste. Toss to coat and adjust seasonings. Sprinkle with feta cheese and serve.
Note: Please do not use our photos without prior written permission. Thanks!

Print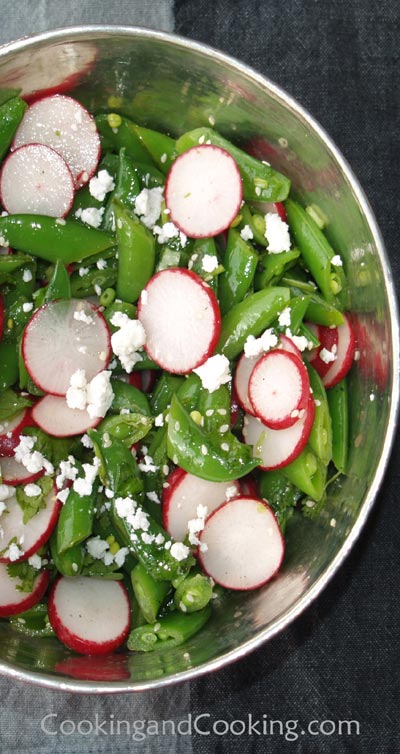 You might also like these...
Stay In Touch