Categories
By Ingredient
Special Occasions
More Links
Stuffed Tomato with Eggplant
Posted on 2016-11-17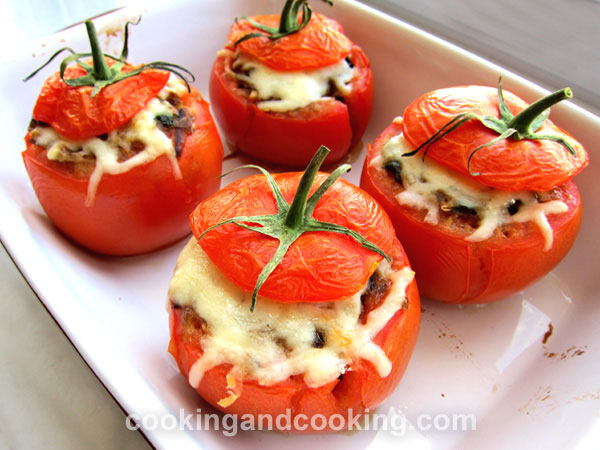 There is always something satisfying about stuffed tomatoes. Is it the warm color of tomatoes? Or is it the tasty stuffing hiding inside? Stuffed Tomato with Eggplant is the most delicious vegetarian dish you've ever tried. These tomatoes are filled with a mixture of fried eggplants, garlic, fresh basil and walnuts, then topped with mozzarella cheese and baked in the oven.

Print
---
Yield: Serves 4
INGREDIENTS
4 medium ripe and firm tomatoes
2 medium eggplants, about 750 g
2 garlic cloves, minced
3 tablespoons chopped fresh basil
2 tablespoons chopped walnut
grated mozzarella cheese
vegetable oil
salt to taste
INSTRUCTIONS
To prepare the stuffing, peel the eggplants. For eliminating the bitter flavor from eggplants, sprinkle with salt and let them sit for 20 minutes. Then rinse well to remove the salt and pat dry. Then cut them lengthwise, into 3/4-inch thick slices.
Heat oil in a non-stick skillet over medium-low heat. Fry the eggplants until golden brown (don't use too much oil; whatever you use, eggplant will absorb). Place them on a paper towel to absorb the extra oil.
Using a potato masher, mash the eggplants until slightly smooth. Add garlic, walnuts, and basil. Season with salt. Mix well and set aside.
To prepare the tomato cups, carefully cut tops off of each tomato and scoop out seeds and pulp with a melon baller or spoon. Reserve the tops.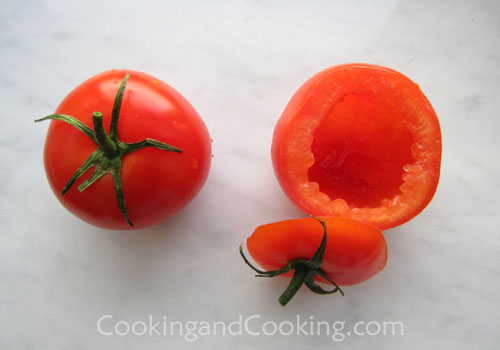 Preheat oven to 350 degrees F.
Spray a baking dish lightly with oil spray. Stuff the tomatoes with the eggplant mixture and place them in the baking dish.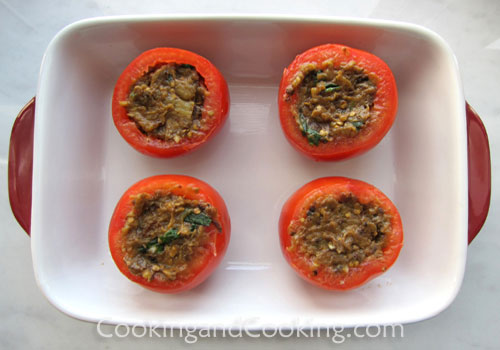 Bake them until they start to soften and skins begin to wrinkle (but still hold their shape), about 20-22 minutes.
Remove the baking dish from the oven and top each evenly with mozzarella cheese. Place the reserved tomato tops to the baking dish (not on top of the tomatoes). Broil tomatoes until the cheese is melted and lightly golden.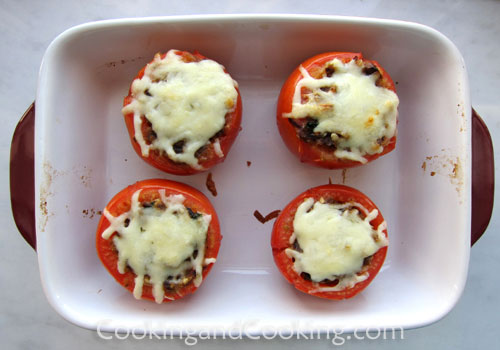 Put the tomato tops on them. Serve hot as main dish or appetizer.
Note: Please do not use our photos without prior written permission. Thanks!

Print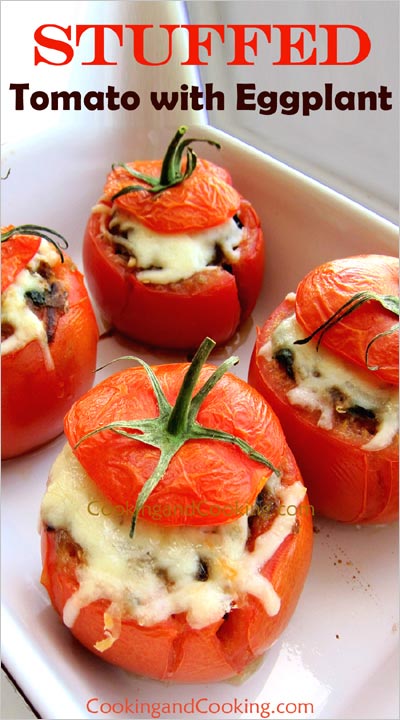 You might also like these...
Stay In Touch