Categories
By Ingredient
Special Occasions
More Links
Spicy Quinoa Soup
Posted on 2011-10-11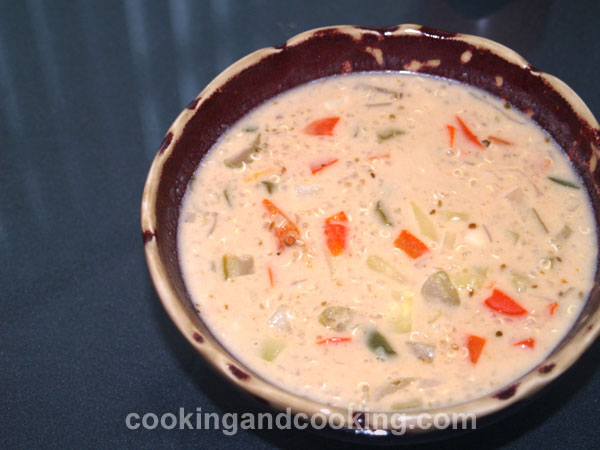 This Spicy Quinoa Soup is a lovely combination of texture and flavors. Serve it with a slice of whole grain bread.

Print
---
Yield: Serves 7
INGREDIENTS
3/4 cup (about 120 g) quinoa
1 medium onion, finely chopped
1 large red bell pepper, finely diced
2 celery stalks (about 1 1/2 cups), finely diced
2 medium potatoes (about 2 cups), finely diced
2 zucchini (about 2 cups), finely diced
1 large jalapeno, deseeded and finely diced
4 garlic cloves, minced
1 cup peanut butter
8 cups water
3 tablespoons olive oil
3 tablespoons lemon juice
1 1/2 teaspoons ground cumin
1 1/2 teaspoons dried oregano
salt and black pepper to taste
INSTRUCTIONS
Heat the olive oil in a large pot over medium heat. Add the onions, celery, red bell pepper, potatoes and jalapeno. Saute for 15 minutes or until potatoes are slightly soft. Then add zucchini, minced garlic, cumin, dried oregano, black pepper and salt; saute for 2-3 minutes. Add water and quinoa. Bring to a boil. Cover the pot, reduce heat and simmer until quinoa is cooked, about 15 minutes, stirring occasionally.
Remove about 1 1/2 cups of hot liquid from the soup and pour into a small bowl. Add peanut butter to hot liquid. Using a fork, blend well and make a smooth paste. Pour the peanut paste into the soup and mix well. Simmer for 10 more minutes. Add lemon juice, taste and adjust seasonings. Serve the quinoa soup hot. Note: If it's too thick, add more water.
Note: Please do not use our photos without prior written permission. Thanks!

Print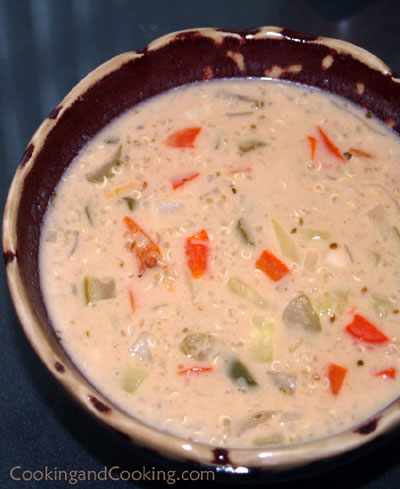 You might also like these...
Stay In Touch