Categories
By Ingredient
Special Occasions
More Links
Spicy Chicken Drumsticks
Posted on 2014-07-22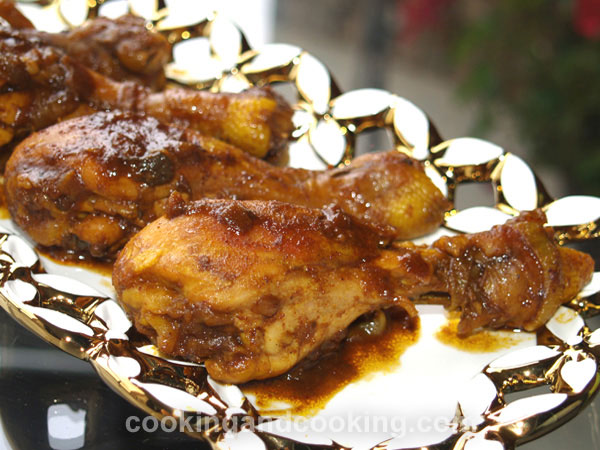 Spicy Chicken Drumsticks are the perfect food to serve at any gatherings. This chicken dish is an easy, healthy and budget-friendly chicken recipe, which you will love. You can serve it hot or cold.

Print
---
Yield: Serves 3
INGREDIENTS
8 skinless chicken drumsticks
1 large onion, sliced
3 tablespoons cooking oil
4 garlic cloves, chopped
2 teaspoons turmeric powder
3 teaspoons chili powder
5 tablespoons balsamic vinegar
3 tablespoons low sodium soy sauce
1 teaspoon sugar
crushed red pepper, as much as you like
INSTRUCTIONS
Heat the oil in a pot over medium heat. Add the onion and saute until golden. Add the garlic and saute for 1 minute or until fragrant. Increase heat to medium-high; add chicken and saute until no longer pink. Reduce heat to medium. Add the turmeric powder and stir gently. Add 1 1/2 cups water. Cover the pot and cook until completely cooked and chicken starts to fall apart, about 70-75 minutes, stirring occasionally. Add more water if needed.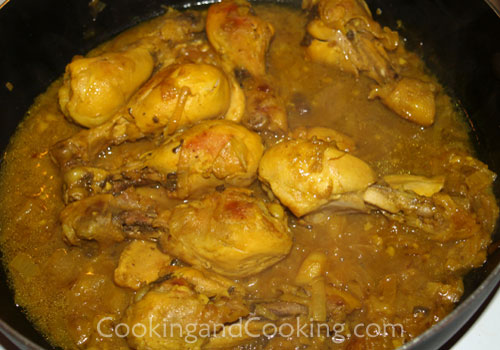 Meanwhile in a small bowl mix together the soy sauce, balsamic vinegar, crushed red pepper, chili powder and sugar. Add the sauce mixture into the chicken. Cover the pot and cook until thickened, about 10 minutes.
Note: Please do not use our photos without prior written permission. Thanks!

Print
You might also like these...
Stay In Touch