Categories
By Ingredient
Special Occasions
More Links
Sole Meuniere
Posted on 2012-01-13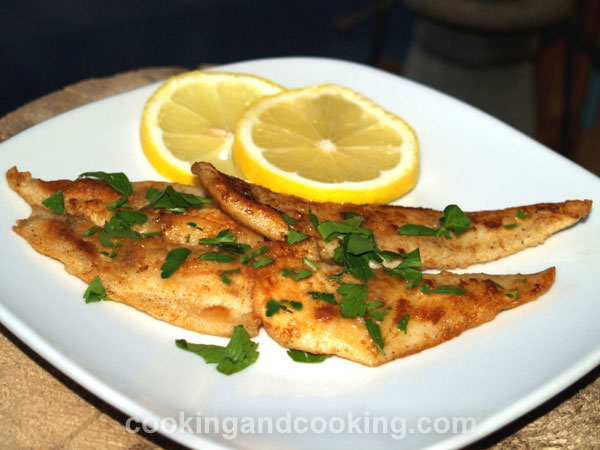 Sole Meuniere is a simple French dish. It is made by dredging the sole fillet in plain flour, pan frying it in butter and then serving it with brown butter sauce, lemon juice and chopped parsley.

Print
---
Yield: Serves 3
INGREDIENTS
400 g sole fillets
1/3 cup all-purpose flour
5-6 tablespoons butter
3 tablespoons fresh squeezed lemon juice
1/4 cup fresh parsley, finely chopped
salt and black pepper to taste
INSTRUCTIONS
Preheat oven to 170 degrees F. Have an ovenproof plate ready.
Rinse the sole fillets and pat dry with paper towel. Season each side with salt and black pepper. Spread the flour in a plate. Dredge fillets in flour on both sides, shaking off any excess flour (Don't flour the fillets ahead of time or they will be gummy).
Heat 2 tablespoons butter in a non-stick pan over medium-high heat until hot. Place the fillets in the hot butter, making sure not to overcrowd. Cook for 2-3 minutes or until golden brown. Turn the fillet and cook the other side too (if butter begins to scorch, reduce heat to medium). Add more butter if needed. With spatula, transfer fillets to the ovenproof plate and place in the preheated oven to keep them warm while you cook the other fillets and make the sauce.
Wipe out the pan with paper towel. Return the pan to the heat and add 3 tablespoons butter. When the butter has melted and is very bubbly, add the lemon juice and whisk to combine. As the butter becomes bubbly again and starts to turn a light brown, season with salt. Remove from the heat and stir in the chopped parsley.
Transfer the fillets to a serving plate. Then spoon the sauce over them and sprinkle generously with black pepper. Serve immediately. You can serve Sole Meuniere with a simple green salad and some boiled potatoes.
Note: Please do not use our photos without prior written permission. Thanks!

Print
You might also like these...
Stay In Touch