Categories
By Ingredient
Special Occasions
More Links
Shir Berenj, Persian Rice Pudding
Posted on 2010-09-12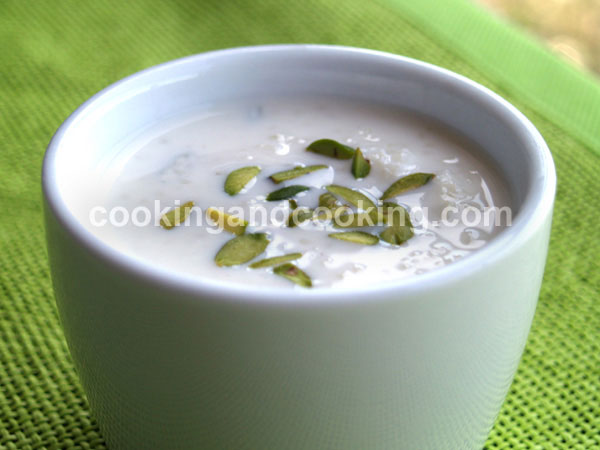 Shir Berenj (Persian Rice Pudding) is a traditional Persian dessert; that can be served cold or hot. For making Shir Berenj you need rosewater that can be found at any Persian stores. If you cannot find it, use the vanilla extract instead.

Print
---
Yield: Serves 8
INGREDIENTS
1 cup short grain rice, about 200 g
8 cups milk
1 cup sugar
2 1/2 cups water
3/4 cup rosewater (you can find it at any Iranian store, or use vanilla extract if you can't find rosewater)
1 1/2 cups heavy cream (35%)
slivered pistachios for garnish
INSTRUCTIONS
Place the rice in a large bowl; pour lukewarm water, stir and pour off the water. Repeat four times or until water runs clear. Soak the rice in water for 4 hours.
Then drain the rice. Place the rice and water in a deep pot. Cook uncovered over medium heat until rice slightly softens, about 20 minutes. Add milk and sugar. Cover the pot and simmer over low heat until the mixture thickens, about 2 hours (stir occasionally to prevent rice from sticking to the bottom). Then add the rosewater and heavy cream; stir well and cook for 10 minutes.
Pour into individual dessert dishes and garnish with slivered pistachios. Serve Shir Berenj cold or hot with jam, syrup or more sugar.
Note: Please do not use our photos without prior written permission. Thanks!

Print
You might also like these...
Stay In Touch