Categories
By Ingredient
Special Occasions
More Links
Scary Stuffed Peppers
Posted on 2016-10-02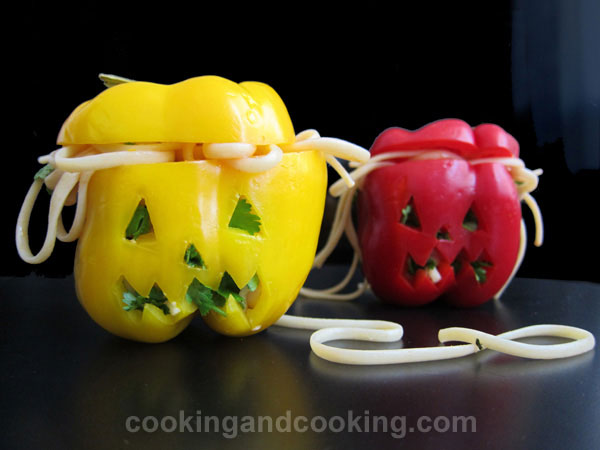 One of the reasons why Halloween party is such a fun party is because we can be creative and try some fun recipes. If you are in need of a quick and easy Halloween recipe that everyone loves, you have to give these Scary Stuffed Peppers a try. To make these scary stuffed peppers, carve the peppers with a sharp knife to look like Jack-o-lanterns and stuff them with pasta or rice.

Print
---
Yield: Serves 2
INGREDIENTS
2 large bell peppers
100 g linguine pasta
1/2 cup marinara sauce or any pasta sauce you like
1/3 cup chopped fresh cilantro
1 teaspoon dried oregano leaves
1 tablespoon olive oil
INSTRUCTIONS
To prepare the peppers, cut a round section on the top of the pepper and discard the seeds and scrape away the insides.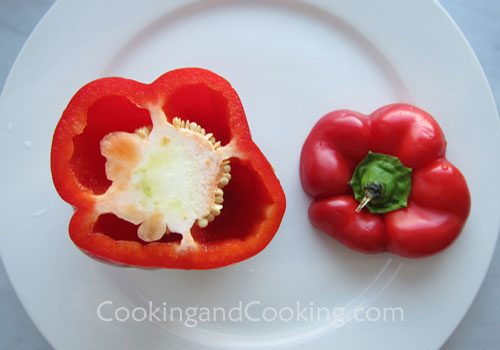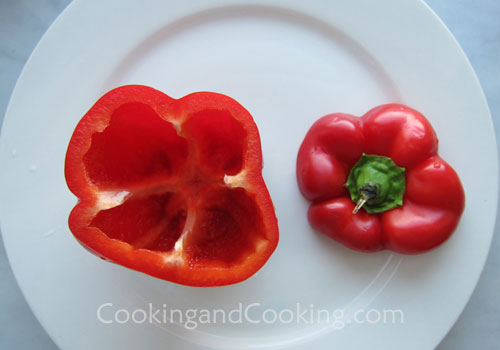 Using a very sharp and small knife, carve Jack-o-Lantern faces into each pepper. Then bring a pot of water to a boil over high heat. Add 1/4 teaspoon salt and place peppers in the pot. Boil until slightly softened about 3-4 minutes (take care not to overcook or they might fall apart later on). Drain the water.
Meanwhile cook pasta in a pot of boiling salted water until just tender but still firm to bite (or cook the pasta according to the package directions). Once cooked, drain and transfer to a bowl. Toss with olive oil. Add marinara sauce (or pasta sauce) and cilantro. Stir to coat.
Then stuff the peppers with the pasta mixture and serve.
Note: Please do not use our photos without prior written permission. Thanks!

Print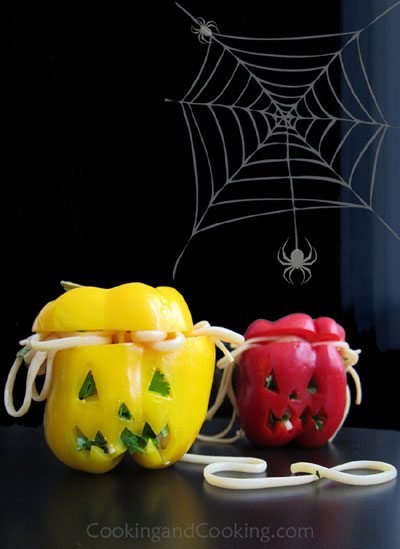 You might also like these...
Stay In Touch