Categories
By Ingredient
Special Occasions
More Links
Salmon Fish with Cottage Cheese
Posted on 2009-11-18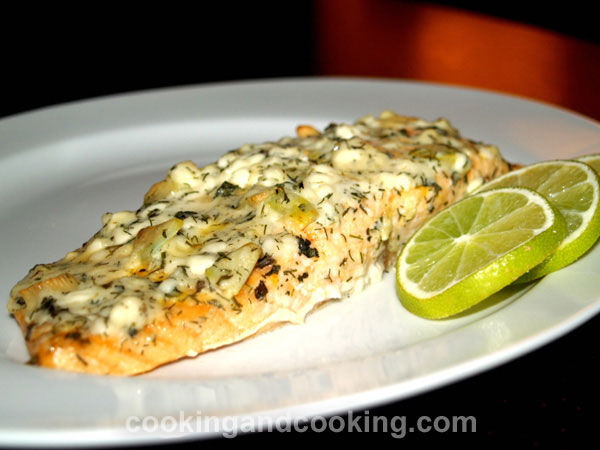 Salmon fish is a perfect meal for a family gathering. Here is a delicious seafood recipe for Baked Salmon Fillets with Cottage Cheese. Serve the baked salmon with fresh lemon or mashed potato as a side dish.

Print
---
Yield: Serves 2
INGREDIENTS
2 medium salmon fillets, washed and pat dry
6 garlic cloves, minced
1 tablespoon olive oil
canola oil
3 tablespoons lemon juice (you can add more)
1/2 teaspoon lemon pepper powder
8 tablespoons cottage cheese (or smooth cream cheese)
1 tablespoon butter
1/2 tablespoon dried basil
1/2 tablespoon dried dill
salt to taste
INSTRUCTIONS
Combine the olive oil, salt, 2 tablespoons lemon juice and half of the minced garlic cloves. Spread over the salmon fillets and marinate for 15-30 minutes. Remove the salmon fillets from marinade and discard remaining marinade.
Preheat the oven to 375 degrees F. Meanwhile melt the butter in a small pot over medium-low heat. Add the cottage cheese, dill and basil; cook for 10-15 minutes, stirring occasionally. Set aside.
Grease the bottom of a baking dish lightly with canola oil. Place the salmon fillets in the baking dish. Pour 1 tablespoon lemon juice over the fish. Sprinkle lemon pepper powder and remaining garlic over the fillets. Put the baking dish in the oven and bake for 25 minutes. Then cover the salmon fillets with cottage cheese sauce and bake for 15 minutes. Serve the baked salmon with mashed potato and a salad for a complete meal.
Note: Please do not use our photos without prior written permission. Thanks!

Print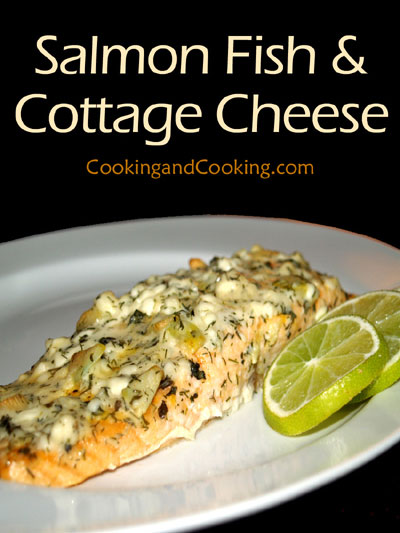 You might also like these...
Stay In Touch